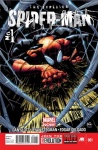 Marvel's new Superior Spider-Man got off to a strong start in January as the series' debut issue topped the Top 300 chart of comics sold through Diamond Comic Distributors with, by ICv2's estimate, a total of 188,182 shipped to direct market retailers in North America. The Superior Spider-Man book "replaces" the long-running Amazing Spider-Man with Doc Ock now occupying Peter Parker's body. The second issue in the series was also released in January. It suffered a drop of 37%, which is a rather modest fall-off from a massive-selling first issue.
Aided by the debuts of three other Marvel NOW! comics (New Avengers, Savage Wolverine, and Uncanny X-Force), Marvel managed to take seven out of the top 10 titles in January, though DC took the second and third spots with Scott Snyder's red hot Batman with its popular "Death of a Family" storyline (no fewer than six "Death of a Family" tie-in books made the top 25), and Geoff Johns' Justice League (which posted a solid increase over its December numbers as its "Throne of Atlantis" story arc continues to gain momentum).
The imminent return of the second half of the third season of AMC's The Walking Dead TV series in February stirred up additional interest in Robert Kirkman's The Walking Dead comic from Image, making The Walking Dead #106 the bestselling non-Marvel or DC comic book of the month as it posted an 18% increase over its December numbers as it moved back into the top 25 (at #19) in January.
With five new number one issues in the top 25 it is no big surprise that these successful debuts prospered at the expense of existing titles. Eighteen continuing titles experienced circulation declines versus just two (Justice League #16 and Walking Dead #106) that posted gains.
On the graphic novel side Bill Willingham's Fables Vol. 18 Cubs in Toyland, which is published by Vertigo topped the chart with over 9,400 copies shipped. While the new Fables book performed on a par with previous volumes in the series, the second and third spots went to books that had been released before. Bryan K. Vaughan and Fiona Staples' Saga, Vol.1debuted in October of 2012, so having a book (without a TV or movie sales driver) continue to sell so strongly four months after its initial release leads to just one conclusion—this creator-owned series is definitely a bona fide hit.
The third spot on the graphic novel charts went to Kirkman's
The Walking Dead, Vol.1
a clear indication that new readers are continuing to discover this series thanks to its exposure on the mega-popular
Walking Dead
TV series (see "
Walking Dead Midseason Premiere Sets New Ratings Record
"). The TV-driven zombie series' dominance of graphic novel charts in both the direct and bookstore markets continues to impress. Four TWD volumes were in the top ten in January with seven volumes of the series in the top 25.
The importance of backlist sales in the graphic novel market, which posted a potent 37% year-over-year gain in January, can be seen in the fact that there were only 3 titles in the GN top ten (Fables, Justice League HC Vol.2, and Animal Man Vol.2) that present new material, all the other graphic novel collections in the top 10 present the same material that had been previously issued in graphic novel form (Justice League Vol.1 was previously released in a hardcover format).
Here are ICv2's estimates of the North American sales of the top 25 comics sold through Diamond Comic Distributors in January of 2013:
188,182 Superior Spider-Man #1
145,923 Batman #16
117,719 Justice League #16
116,280 New Avengers #1
112,546 Superior Spider-Man #2
102,530 Savage Wolverine #1
93,917 Uncanny Avengers #3
92,300 Detective Comics #16
92,165 Avengers #3
86,187 Uncanny X-Force #1
83,088 Avengers #4
81,494 Batman and Robin #16
80,195 All New X-Men #6
79,433 New Avengers #2
76,007 All New X-Men #5
72,884 Green Lantern #16
72,470 Batgirl #16
71,254 Young Avengers #1
70,526 The Walking Dead #106
69.643 Nightwing #16
63,726 Teen Titans #16
62,153 Aquaman #16
59,836 Captain America #3
59,621 Red Hood and the Outlaws #16
59,431 Indestructible Hulk #3
For an analysis of the dollar trends in Janaury, see "
Comic Sales Roar in January
."
For our estimates of actual sales by Diamond U.S. from comic specialty stores on comic books shipped during Janaury, see "
Top 300 Comics Actual--January 2013
."
For our estimates of actual sales by Diamond U.S. from comic specialty stores on graphic novels shipped during Janaury, see "
Top 300 Graphic Novels Actual--Janaury 2013
."