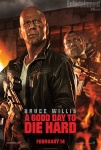 Bruce Willis's fifth Die Hard film, A Good Day to Die Hard, topped the weekend box office with a less-than-expected three day total of $25 million. Beaten by the Nicholas Sparks' romance Safe Haven on Valentine's Day, the latest Die Hard film did just enough over the 3-day weekend to best Safe Haven and last week's winner Identity Theft, which dropped just 32% for the three-day weekend, and finished a strong second with an estimated $23.5 million.

In spite of four new features in wide release, the weekend box office total of the top 12 films was down 26.3% from the same weekend in 2012 when Denzel Washington's Safe House topped the charts with $40.1 million.
A Good Day to Die Hard, which cost an estimated $92 million to produce, opened more weakly than 2007's Live Free or Die Hard, which bowed with $33.4 million over its 3-day debut. But after losing Valentine's Day and tying with Safe Haven on Friday, the fifth Die Hard film muscled up to take both the weekend as well as the 5-day period during which it earned an estimated $33.2 million to Safe Haven's $30.2 million. The critics savaged the new Die Hard film, giving it a miserable 16% positive rating on review aggregator Rotten Tomatoes, which probably hurt attendance since the audience for the franchise is older and more likely to be swayed by reviews, but audiences gave the film a solid "B+" CinemaScore, which once again illustrates the growing divide between critics and the movie-going public when it comes to genre films. While this latest Die Hard movie is off to a somewhat weak start here, it did well overseas where it topped the international box office with $61.1 million for the weekend and $80.1 million for its first five days.
Weekend Box Office (Studio Estimates): February 15-17, 2013

Film

Weekend Gross

Screens

Avg./

Screen

Total Gross

Wk#

1

A Good Day to Die Hard

$25,000,000

3,553

$7,036

$33,239,000

1

2

Identity Thief

$23,437,000

3,165

$7,405

$70,725,000

2

3

Safe Haven

$21,430,000

3,223

$6,649

$30,259,000

1

4

Escape From Planet Earth

$16,066,000

3,288

$4,886

$16,066,000

1

5

Warm Bodies

$9,000,000

2,897

$3,107

$50,221,000

3

6

Beautiful Creatures

$7,460,000

2,950

$2,529

$10,002,000

1

7

Side Effects

$6,307,000

2,605

$2,421

$19,128,000

2

8

Silver Linings Playbook

$6,088,000

2,202

$2,765

$98,462,000

14

9

Hansel and Gretel: Witch Hunters

$3,470,000

2,103

$1,650

$49,699,000

4

10

Zero Dark Thirty

$3,100,000

1,522

$2,037

$88,029,000

9
Safe Haven fared even worse with the critics (only 13% positive), but its audience of younger females, undeterred by the bad notices, also gave the film a "B+" CinemaScore. Starring Josh Duhamel and Julianne Hough, Safe Haven was the only one of the quartet of new films to surpass its expectations (of about $25 million for the five-day period), though it didn't accomplish the feat by much.
Last week's winner, the "R"-rated comedy Identity Thief, continues to perform well above expectations. Lambasted by critics (including Rex Reed who went way over the top in a name-calling attack on the film's star Melissa McCarthy), Identity Thief appears to be proof that McCarthy is the new queen of raunchy "R" rated comedies. Produced for $35 million, the movie has earned $70.7 million in just ten days of release, and its per-theater average of $7,405 was the best in the top ten.
Fourth place went to the new animated feature Escape From Planet Earth, which like so many other films in its genre features an "all-star" cast of big name actors. Reviews were bad (just 24% positive), but that doesn't matter much with the family audience either, and Escape has no serious competitors for the family market.
Summit Entertainment's "Twilight with Zombies" feature Warm Bodies, took the fifth spot with $9 million, only a 20% drop from its second weekend total, and more than enough to humiliate Beautiful Creatures, a supernatural romance based on a popular series of YA novels that opened well below expectations, though competition for its target audience of young females was fierce with both Safe Haven and Warm Bodies mining the same demographic territory over the Valentine's Day weekend.
Steven Soderbergh's medical thriller Side Effects took the seventh spot with an estimated $6.3 million (a decline of just 32.2%), while David O. Russell's Silver Linings Playbook continues to perform better (at this point in time) at the box office than any of its Oscar rivals. Silver Linings dropped just 5.2% as it earned an estimated $6.1 million and pushed its cumulative to $98.5 million. It will be over the $100 million mark by next weekend. Currently among the Oscar hopefuls Steven Spielberg's Lincoln leads with $176.2 million, followed by Quentin Tarantino's Django Unchained ($157 million), Ben Affleck's Argo ($126.9 million), Ang Lee's Life of Pi ($110.8 million), and Kathryn Bigelow's Zero Dark Thirty ($88 million).
Check back here next week to see if The Rock's action thriller Snitch, or the suburban set alien/horror thriller Dark Skies can fight their way to the top of the box office charts.