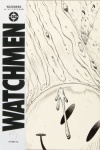 The cover art for the first Watchmen issues and art for ten pages from Cerebus High Society are being offered in Heritage Auctions' Comics & Comic Art Signature Auction this month. The Watchmen pieces include the original art for the covers of the first three issues, along with the color guide for the first issue. The cover art for #1 is expected to bring over $100,000, according to Heritage.
Art for all twelve
Watchmen
covers will eventually come to market, Heritage announced, with #4-#6 in May, #7-#9 in August, and #10-#12 in November. All twelve covers were part of the Shamus Collection of Modern Masterworks, which has already been producing records (see "
McFarlane Cover Brings $657,250
").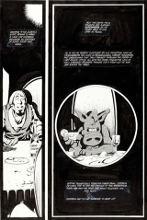 The
Cerebus
pages were selected for sale by Dave Sim based on recommendations by Heritage, he told
Moment of Cerebus
, as a way to raise money. He does not expect to offer additional pages for sale.
Other key pieces in the auction include John Romita Sr.'s cover art for Amazing Spider-Man #121 ("The Night Gwen Stacy Died"), and art for a daily Calvin and Hobbes strip by Bill Watterson.