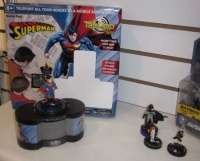 At last week's New York Toy Fair, WizKids revealed plans for an enhanced version of their HeroClix iPad game. TabApp Elite offers enhanced play mechanics, and will feature both DC and Marvel characters.
The TabApp Elite is based around a special figure dock that can identify more information about the figures than the original TabApp, and which will communicate wirelessly with the iPad. The special HeroClix figures have contact points, so when they are placed on the dock it can identify not only the character, but also the current status of the figure's "clicks."
WizKids Marketing and Product Coordinator Scott D'Agostino described the game to ICv2:
"[With] the first TabApp, you placed the figure directly on the iPad, and there are contact points that recognize the figure. With the dock... [it recognizes] the click position, so it does change the element of the gameplay. And then, also in the gameplay [there are] allies, which are other characters which you will be able to use the original TabApp, but there will also be connection points and you can touch the figures to the tablet and it will recognize those figures. So, you not only have characters on the dock, but characters on the side. Touch them to the tablet, they'll come into the game so you have two characters that you're using that are helping you."
TabApp Elite is scheduled to release this summer. The exact release dates and which characters will be included have not been announced.