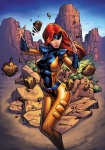 Upper Deck will release Dark City, its first expansion for Legendary: A Marvel Deck Building Game, on June 25th. Dark City will include 350 new cards for $39.99. Devin Low returns as the designer for this darker-toned play experience.
New characters will include 17 new heroes (including X-Force and Marvel Knights), six new villain groups, two new henchmen groups, five new masterminds (including Apocalypse and Kingpin) and new Schemes.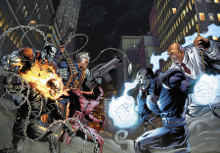 Including the core set and
Dark City
, the 850 cards available will now include four unique pieces of art for each hero, as opposed to just one from the core set.