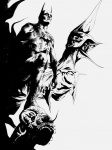 Shades of World's Finest---DC Comics has announced a new team-up series featuring its two most famous heroes, Batman and Superman. Veteran comic book scribe Greg Pak (Hulk) will write the new ongoing Batman/Superman series that is due to debut in June with art by Jae Lee (Inhumans, The Dark Tower).
According to
USA Today
, Pak and Lee are setting their new
Batman/Superman
title 'in the past of DC's "New 52" re-launched continuity as the two budding superheroes meet (not without friction) and eventually team-up. Thus the Bruce Wayne/Batman of the new series will be a budding superhero who is new to the cowl, while Superman will be similar to the jeans-wearing young hero re-imagined for the "New 52" by Grant Morrison for the revived
Action Comics
.
It appears that the title of the new ongoing team-up series will be Batman/Superman, a name that recognizes the primacy of The Dark Knight (in terms of sales at least) in the new DC universe, and also sets it apart from the Superman/Batman series that debuted in 2003 and came to end with the major reworking of the DCU that produced the "New 52" in the fall of 2011. Long time comic book fans will of course remember the long-running World's Finest comic book series that lasted from 1941 to 1986 and almost always featured DC's two leading superheroes Superman and Batman.
The announcement of the new
Batman/Superman
comic comes on the heels of a number of major tweaks to the DC universe including the announcement of a six-pack of cancellations (see "
DC Cancels Six More Titles
") and new creative teams for the
Green Lantern
family of titles (see "
New Green Lantern Teams
").