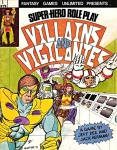 Villains & Vigilantes creators Jeff Dee and Jack Herman have regained the rights to Villains & Vigilantes, the superhero role-playing game they created in the 1970s, which was published by Scott Bizar's Fantasy Games Unlimited. After a 20-month legal struggle, Judge Mark E. Aspey ruled in favor of the game's original creators and against Bizar, who has been selling V&V products and PDFs in recent years.
In 2010 Dee and Herman founded Monkey House Games and began to revive
Villains & Vigilantes
(see "
'Villains & Vigilantes 3.0' in Development
" and "
'Living Legends Superhero RPG'
") only to run into a conflict with Bizar, who had dissolved Fantasy Games Unlimited in 1991 and did not sell any
V&V
games from 1990-1994 and again from 1999-2004. According to an article by Rogers Cadenhead on the Workbench site, the Judge's ruling in favor of the game's creator was based on these periods of sales inactivity.