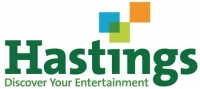 With sales down 1.3% in 2012 after a 4.8% drop in 2011 Hastings Entertainment has decided to shrink the amount of floor space it gives to books, music, and rental in order to provide more space and inventory for its Electronics and Trends sections. Hastings, which has been hurt by the slump in video game sales (see "
Videogames Drop in 2012
") already has major Electronics and Trends departments in 44 of the company's 137 stores and plans to add them in 61 additional stores in 2013.
Hastings has no plans to open more stores and is set to close eight underperforming outlets as it switches to its "new business model." The company saw its sales fall from $496 million in 2011 to $462.5 million in 2012, but managed to shrink its net loss from $17.6 million in 2011 to $9.3 million in 2012.
In the most recent quarter Hastings saw rises in revenue of 15.1% in its "Trends" section and 12.9 % in its Electronics section. The "Trends" section includes action figures, statues, novelties,apparel, posters, and comics.