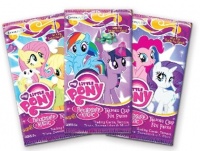 Enterplay plans an April release for My Little Pony Friendship Is Magic Series 2 Trading Cards. Each pack includes 4 cards, 1 sweepstakes code, a funtat Tattoo Card, and either one foil card, one sticker, or one pop-up standee card. Enterplay will be including a series of four gold box toppers in hobby product only.
The first
My Little Pony Friendship Is Magic Trading Card
series from Enterplay sold out within a week, and the first series is now in its third printing with some of the special foil cards in the set fetching up to $600 in the aftermarket. The entire
My Little Pony
property appears to be white hot with the first issue of IDW Publishing's
MLP
comic book selling nearly 100,000 copies (see "
Bronies Drive MLP Hits
").