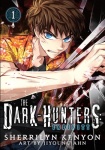 Dark Hunters: Infinity Vol. 1 TP
Publisher: Yen Press
Release Date: March 2013
Price: $12.99
Creators: Sherrilyn Kenyon (Writer), JiYoung Ahn (Artist)
Format: 256 pgs., B&W, Trade Paperback
ISBN: 978-0-3161-9053-4
Age Rating: Teen
ICv2 Rating: 3 stars out of 5
The Dark Hunter series is a world all to itself. Mixing pantheons and mythologies from around the world, the franchise has taken on a life of its own over the last few years thanks to the very talented author Sherrilyn Kenyon and now it is making the jump into graphic novels.
In this first volume, the story of a young squire named Nick Gautier is told from his point of view. Within the book's 250+ pages, Nick remembers the first time he meets the leader of the Dark Hunters, Acheron, and his new boss Kyrian who saves him from a life of crime and prison before he can turn to the dark side.
For all intents and purposes, this is a good first outing and does a decent job of telling a zombie/vampire story. The artwork is very pleasant to look at as it mixes western and eastern art styles and the writing is clever. The problem however is the fact that this is a Dark Hunter book and part of a larger franchise.
If you're not already familiar with the Dark Hunter series, I can't suggest this book to you because even within the first few pages you will be lost and floating without a clue. Unless you've read the many books that have come before it you're not going to know why Nick hates Acheron so much, what his connection to the goddess Artemis is, what a daimon is or even what a were-hunter is for that matter.
If you are a fan of this franchise however, you are going to be in for a wild and fun ride with one of the series' most beloved characters learning all about his history and finding out more about the troubled soul of one Nick Gautier.
It's not brilliant but it's solid, fun and action packed. Dark Hunter fans can let out their breaths of anticipation, this is worthy of your already very full collections.

--L.B. Bryant