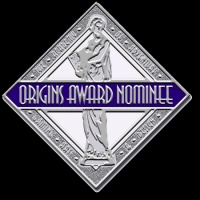 The Academy of Adventure Gaming Arts and Design has announced the nominations for the 2013 Origins Awards. Winners will be selected by voting at the Origins Game Fair, and the winners will be announced and presented at the Origins Awards Ceremony on Saturday, June 15th.




Best Roleplaying Game
Iron Kingdoms Full Metal Fantasy RPG Core Rules – Privateer Press
Marvel Heroic Roleplaying Basic Games – Margaret Weis Productions
Monsterhearts – Buried Without Ceremony
Nights of the Crusades – Aetheric Dreams
Primeval RPG – Cubicle 7 Entertainment Ltd.

Best Roleplaying Supplement
Marvel Heroic Roleplaying Civil War Essentials Edition Event Book – Margaret Weis Productions
Menzoberranzan: City of Intrigue – Wizards of the Coast
Mutants & Masterminds: Threat Report – Green Ronin
Rimward: The Outer System – Posthuman Studios
The Mythos Dossiers – Cubicle 7 Entertainment

Best Board Game
Hot Rod Creeps – Cryptozoic Entertianment
Kingdom Builder – Queen Games
Lords of Waterdeep – Wizards of the Coast
Mage Knight – WizKids
Mage Wars – Arcane Wonder

Best Collectible Card Games
Card Fight! Vanguard Breaker of Limits – Bushiroad
Kaijudo: Rise of the Duel Masters – Wizards of the Coast
Legend of the 5 Rings: Embers of War – AEG
World of Warcraft: War of the Ancients – Cryptozoic Entertainment
Yu-Gi-Oh! Battlepacks – Konami

Best Traditional Card Game
Doctor Who the Card Game – Cubicle 7 Entertainment/Treefrog Games
Legendary – Upper Deck
Locke & Key – Cryptozoic Entertainment
Penny Arcade: Rumble in R'lyeh – Cryptozoic Entertainment
Smash Up – AEG

Best Family, Party or Children's Game
Catan Junior – Mayfair Games
Escape: The Curse of the Temple – Queen Games
Love Letter – AEG
Once Upon A Time 3rd Edition – Atlas Games
Quarriors! Dice Building Game – WizKids

Best Gaming Accessory
Castle Panic: The Wizard's Tower – Fireside Games
Dungeon Tiles: Castle Grimstead – Wizards of the Coast
Metal Steampunk Dice Set – Q Workshop
Pathfinder Battles Miniatures: Rise of the Runelords – WizKids
Pathfinder Serpent's Skull Dice Set – Q Workshop

Best Miniatures Rules
Dungeon Command: Curse of Undeath – Wizards of the Coast
Heavy Gear Blitz! Perfect Storm: The NuCoal Field Guide – Dream Pod 9
The Battlefield: Miniature Modern Warfare – Bombshell Games/Brent Spivey
The Hobbit: An Unexpected Journey Campaign Starter Set – WizKids
WARMACHINE: Colossus – Privateer Press

Best Historical Miniature Figure/Line
Ancient Greeks - Victrix Ltd
Austrian Napoleonic Infantry – Perry Miniatures
Early Imperial Romans – Aventine Miniatures
Early War Polish WWII – Forged In Battle
German BP44 Armored Train – Battlefront Miniatures

Best Historical Board Games
1812: The Invasion of Canada – Academy Games
Andean Abyss – GMT
Clash of Wills – Mayfair Games
Frontline General: Spearpoint 1943 Village and Defensive Line Map Expansion – Collins Epic War Games
Samurai Battles – Zvezda

Best Historical Miniature Rules Supplement
Bolt Action: Armies of Germany – Osprey Publishing/Warlord Games
Clash of Empires: Age of Ravens – Great Escape Games
Flames of War: Nuts – Battlefront Miniatures
Hail Caesar Army Lists: Late Antiquity to Early Medieval – Warlord Games
SAGA: Raven's Shadow – Gripping Beast/Studio Tomahawk

Best Historical Miniature Rules
Brink of Battle: Skirmish Gaming Through the Ages – Strategic Elite
Bolt Action: WWII Wargaming Rules – Osprey Publishing/Warlord Games
Deus Vault – Fireforge Games
Flames of War: Open Fire! – Battlefront Miniatures
Mad Dogs With Guns – Pulp Action Library

Best Miniature Figure Line
Thee Aberration (Carnevale: The Miniature Game) – Vesper-On Games
Marvel HeroClix: Galactic Guardians – WizKids
Mountain King (Trollbloods Gargantuan) – Privateer Press
Radru-Rashaar (Carnevale: The Miniature Game) – Vesper-On Games
Trontek 29ers Corporation Team – Mantic Games

Best Game-Related Publication
Death's Heretic – Paizo Publishing, LLC
Battletech: Weapons Free – Catalyst Game Labs
Time Traveled Tales – GAMA
Eighth Day Genesis: A World Building Codex – Alliteration Ink
Never Unprepared: The Complete Game Master's Guide to Session Prep – Engine Publishing