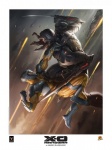 Dynamic Forces has been awarded a license to produce collectible merchandise based on Valiant Entertainment properties, the company announced. The merchandise categories include resin statues, dioramas, bookends, full-size head reproductions, busts, lithographs, and posters.
The first product to be released under the new agreement will be an X-O Manowar lithograph, featuring the Marko Djurdjevic art from the cover of X-O Manowar #12 in an over-sized 18" x 24" format. It will be released in July.
New Valiant Entertainment President of Consumer Products, Promotions, and Ad Sales Russell Brown described his roots with Dynamic Forces. "I worked extensively with Dynamic Forces during my time at Marvel and, true to form, they have a wide array of exciting plans in store for Valiant's universe of characters," he said. Brown was EVP of Worldwide Licensing Promotions, and Ad Sales at Marvel Enterprises for five years in the late 90s and early aughts.