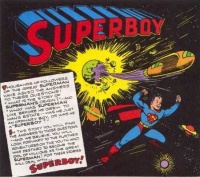 A federal court ruling on the final issues in the longrunning litigation between DC Comics (and parent Warner Bros.) and the heirs of Superman co-creator Jerome Siegel has come down in DC's favor, according to Deadline. U.S. District Judge Otis Wright III ruled that the rights to Superboy and some Superman advertisements were sold to DC in a 2001 settlement agreement.
The judge had previously ruled that the agreement was binding with respect to Superman (see "Warner Bros. Wins Another Round in Superman Case"), and this wraps up the case. Or as the judge put it, "[T]his litigation of superhero proportions now draws to a close."
The ruling came down on the 75th anniversary of the publication of Action Comics #1, on April 18, 1938.
Appeals are possible, of course, as is a new tack of arguing that the agreement was valid when signed, but was subsequently voided by a breach (see "Siegel Superman Litigation Continues").
In a possibly related development, a new credit appeared in Justice League #19, out this week. In addition to the standard "Superman created by Jerry Siegel & Joe Shuster," which appears in all DC books in which Superman appears, Justice League #19 carries the credit, "By Special Arrangement with the Jerry Siegel Family."
On another front, Warners seems to have lost in its litigation against Marc Toberoff, the attorney to both the Siegel and Shuster heirs (see "Rulings Against DC").