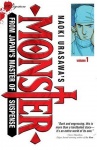 Guillermo del Toro is developing an HBO series based on the Monster manga series by Naoki Urasawa, according to Deadline. The story will be co-written by del Toro and TV writer Steven Thompson (Doctor Who, Sherlock); Thompson will write and del Toro will direct the pilot.
The Monster manga, published here by Viz, has seen interest in Hollywood since at least 2005, when it was in development by New Line as a live action feature (see "'Violence' Scribe Pens 'Monster'").
Monster is a psychological thriller about a doctor who makes a tough decision to save the life of a young boy (instead of a socially important older man) only to find out years later that the boy he saved has become a serial killer.