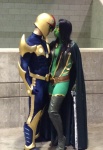 Here is the third batch of our photos from C2E2 on Friday.

Nova and Gamora seem entranced with each other.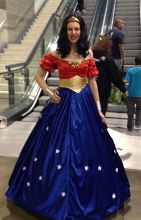 We saw a new merch category at this show: eyewear. Sire's Crown from Los Angeles are "taking vintage lithographs from comic books from the 30s to the 70s and applying them to an eco-friendly plant-based plastic eyeglass frame to get vintage-looking comic book eyewear."
The frames sell for $250 to $350 apiece, and Chris Ervin from the company told us that their booth at their first comic convention (Wondercon) was so successful that it made them "want to be part of every single comic book convention."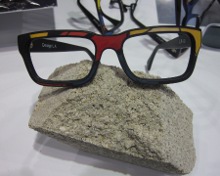 Princess Diana (aka Wonder Woman) would fit in perfectly with the Disney princesses.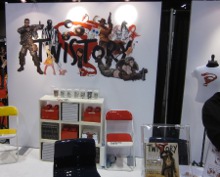 Twistory was showing their new comic anthology magazine (
Twistory
) and Shinjuku, an illustrated hardcover novel by Mink and Yoshitaka Amano (previously released by Dark Horse).
The whole "feathers in the hair" style taken to a new level.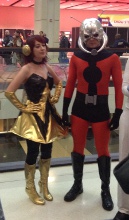 Batgirl in a classic look.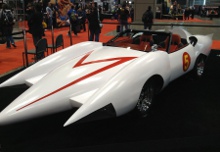 The Mach 5 from the Wachowski siblings'
Speed Racer
.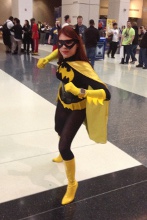 The Wasp and Ant-Man might be small in stature, but this duo's great costumes sure drew a big crowd of admirers.
Click here for
Part 1
, or click here for
Part 2
.