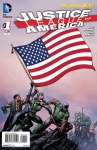 A spokesperson for Diamond Comic Distributors has confirmed that sales of comics and graphic novels were up dramatically in Q1 vs. the previous year. Comics were up 21.38%; graphic novels were up 16.22%; and comics and graphic novel sales were up 19.78% over-all in Q1 vs. Q1 2012.
These numbers are as previously announced with the March numbers (see "
Comic Market Up 22+% in March
"); the numbers announced at the Diamond Retailer Summit in Chicago last week (which were somewhat higher) were an error by Diamond, according to the spokesperson.
Regardless, a nearly 20% growth rate is spectacular, especially on top of the growth rate in Q1 2012: comics up 15.85%, graphic novels up 8.39%, and combined comics and graphic novel sales up 13.42% for the quarter (see "
Streak Stopped at Seven--Comics Slip in March
"). That's over a 35% two-year growth rate, an enviable number in a still-weak economy.