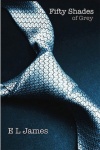 The first complete survey of book sales in 2012 (the first full year since the demise of the Borders book chain in 2011) reveals that publisher revenue from online booksellers like Amazon rose 21% to $6.9 billion, while sales from brick and mortar bookstores dropped 7% to $7.5 billion, which means that, if the trend continues, online book sales could well top brick and mortar sales in 2013. The
BookStats
survey, which was compiled by the Association of American Publishers and the Book Industry Study Group covers data from more than 1500 publishers including the six majors, also shows that sales in most print formats were flat, while e-books and downloadable audio book sales continue to boom.
Fueled by the massive success of the
Fifty Shades of Grey
erotic novels, sales of fictional e-books rose 42% in 2012, while non-fiction e-books grew by just 22% to $484.2 million according to the
New York Times
. As the sales of e-books have increased the gaudy percentage increases of previous years (see "
E-Book Sales Exploding
") have been tamped down somewhat in the major categories, but Children's books, a market segment where e-books had been slow to take off at first because relatively few kids had their own readers, experienced a massive 117% increase in 2012 (over a much smaller base in 2011). It appears that it may take a few more years before the full extent of the market penetration by e-books is known across all the various segments of the market.
Overall publishers reported net revenues of $15 billion in 2012, which was up from $14 billion in 2011. E-books accounted for 20% of publisher revenues versus 15% in 2011 and 14% in 2010 (see "
E-Books Outsell All Print Books at Amazon
").