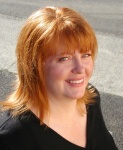 Writer Gail Simone (Birds of Prey, Batgirl, Wonder Woman) generously took time from her busy schedule to talk with ICv2 about her new Red Sonja comic book series for Dynamite Entertainment, which will feature art by Walter Giovanni. Simone discusses her perception of the character and notes that Dynamite has managed to put an interesting twist on the policy of launching a new series with a slew of variant covers by having an outstanding group of female artists create the variants.
Why do you want to write a comic about a scantily-clad, sword-wielding female "She-Devil" who has historically attracted an almost entirely male readership?
Gail Simone:
If that was all Red Sonja was, I wouldn't want to write about her at all. She's a lot more than that to me, and to her fans, I'm sure. A thousand imitators showing more flesh have come and gone, and Sonja is still here.
I'm not sure about the relevance of what the audience used to be, as well, as you could say that about almost any comic or character on the rack, because there was a time where female comics fans were apparently a small minority. I think those days are fading so fast we won't even remember them clearly.
But I also think it does a bit of a disservice to lump all male readers together like that, as well. I have found the male readership to be remarkably supportive of great female characters again and again, with
Birds of Prey
, with
Wonder Woman
, with
Batgirl
. I want a
Red Sonja
that isn't just a cult title, with every character I love, when I take them over, I want to preach their gospel, I want people to know why I love them so much. Red Sonja kicks a megatonnage of ass, that's what she does. People are going to love her, if they don't already, I think.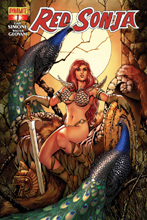 How would you assess the different challenges posed by writing for a character like Batgirl versus penning a Red Sonja comic?
Adventure comics are going to have some similarities in structure, regardless. But the setting, the setting makes so much difference, it's everything. Putting Superman in the Marvel Universe, it's different. The tone changes. And here we have one of the great fictional universes to play with. I can't wait.
How do you plan to make your version of Red Sonja different from previous iterations of the character?
I don't want to change what works--it's never my goal to put my stamp on something, that's not what I care about. And writers like Thomas and Carey and Oeming and Marz, they've been telling immaculate stories for decades with the character. What I want to do is just a fresh look. I think she'd gotten a bit omnipotent, and a bit icy, over the years. I want her to be more impulsive and prone to rash judgment. And I want to work a bit on her origin, because some of that stuff is really just of a different time, it needs to be reconsidered and retold in a way that's less about weird gender politics from ages ago.
Will your run include an origin story for Red Sonja, and if so will it differ from previous versions?
Yeah, I don't like to negate, but some of that stuff needs to be rebuilt.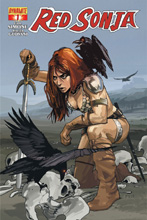 Speaking of previous versions, which is your favorite, and do you trace the character all the way back to Robert E. Howard's Red Sonya of Rogatino?
REH fans know that his Red Sonya bears very little resemblance to the character we have all grown to love. So our Sonja is definitely more of the comic book character. However, the setting, that's Howard. It's one of the great mega-fictions, one of those universes that inspires writers to write it themselves. We're using that stuff!
Will your Red Sonja be facing any familiar foes?
That would be telling. But there's one guy who... well, I'm just going to shut right up at this point. Sorry!
Are you going to be writing about the young Red Sonja making her way through a dangerous and violent world, or will you be dealing with a more mature version of the heroine?
This is a reboot of the character. She's very new to much of the world at this point. I don't want to negate any classic stories, they are either going to happen or have happened. But this is a Sonja who doesn't know everything yet. That's what makes her fun, we get to see her become the she-devil!
The art is gorgeous, by the great Walter Geovanni, and we had this fun idea to ask all the best female artists in comics to do a Sonja cover or variant, and they responded BRILLIANTLY. We have Fiona Staples, Colleen Doran, Nicola Scott, Amanda Conner, Jennie Frisson, Stephanie Buscema, and lots, lots more coming. It's one of the most joyful things I have been part of in comics. Just a dream come true.
People are going to want to get in early--this story is going to surprising places and they are going to want to be up to date.
Red Sonja
#1, this July!