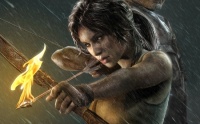 Marti Noxon, who's been a showrunner, writer, and producer on such series as
Buffy, Angel, Mad Men,
and
Glee
, has been tapped to write a script for the film reboot of
Tomb Raider
, according to
Variety
. The reboot is being produced by Graham King (
The Town, Rango, Hugo,
see "
GK Films Rebooting 'Tomb Raider'
") in conjunction with MGM.
The property reboot has already begun with this year's release of
Tomb Raider
, the first new videogame since 2007. It sold over 3 million units, a solid beginning for the reboot of the videogame franchise, which has sold over 35 million units since its launch in 1996.
The new game by Crystal Dynamics took the character younger, and this new version of the character will form the basis for the new film as well. Crystal Dynamics is reportedly working closely with GK on the film.
Dark Horse Comics produced a promotional comic tied to the videogame release (see "
'Tomb Raider' Comics Return
").