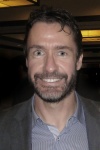 ICv2's in-depth interview with IDW Publishing CEO Ted Adams wraps up with a look at the possibility that IDW will grow by acquisition, a look ahead to the rest of 2013 for IDW, and a consideration of the risks of growth. In Part 1, the interview kicked off with an overview of the market and IDW's place in it, including market conditions, the demographic breadth of readers, how IDW is better at books without Borders, IDW's high-end strategy, how digital event comics can be marketed better than print, and the digital share of IDW's business. And in Part 2, ICv2's interview continued with a look at IDW's media projects currently in development and its licensed books.
In our last interview you said that IDW might look to grow through acquisition. Anything new there?
No, we really honestly haven't had much luck with that strategy for growth. Luckily, our core business has grown so much over the last year that that ended up not being as much of an initiative as the last time we spoke. I did kick the tires on a couple of places and ultimately, it just didn't work out.
Any other plans for 2013 that you want to talk about?
There's a couple of things that I'm excited about. One, I'm excited about and also sad, is that
Locke & Key
is going to be coming to an end this year. We're doing two oversized issues called
Locke & Key Alpha
and
Locke & Key Omega
and that's going to wrap up that storyline.
Locke & Key
is one of the books I'm most proud to publish. I think it's a book that will be around forever. Those books have already become a perennial seller for us. We're selling more of
Locke & Key
this year than we did the year before. It's really built an audience and I think once everybody sees how Joe [Hill] and Gabe Rodriguez finish that storyline that those hardcovers and trade paperbacks are going to be books that people will be reading forever in the same way they read
Watchmen, The Dark Knight Returns
,
Swamp Thing
, that kind of thing. I think
Locke & Key
holds its own with all those properties and those will be books we keep in print forever. I'm anxious myself as a fan to see where the story ends, but disappointed as a publisher that we won't have more ongoing comics.
We do have a couple of new books with Joe Hill:
Thumbprint
, which is an adaptation of a novella that he wrote. It's a three-issue miniseries this summer. It's a really fun series.
On the creator-owned front, we have
Half Past Danger
, which is a fun World War II adventure; the other one is
Wild Blue Yonder
by Zach Howard. That also launches in June and is an interesting take on a society that lives in the air via airplanes. I read the first issue a couple of weeks ago. It's a really fun book that I think will find a nice place in the direct market.
We still have
Kill Shakespear
e that we do and a book,
Fever Ridge
, which looks at MacArthur's war, a jungle war, in World War II. So those are all fun, creator-owned books.
On the upcoming licensed comics front we have
X-Files
Season 10
that comes out in June. If you're an
X-Files
fan, this one's really going to appeal to you. It's being overseen by Chris Carter, the creator of
X-Files
. I was a big
X-Files
watcher back in the day, and this comic is a lot of fun. We already talked about the
Turtles New Adventures
, which launches in July. Also in July we have the
Rocketeer/Spirit
crossover, by Mark Waid and Paul Smith. That's about all that needs to be said on that book; it's just flat out terrific, one that I think people are really going to like. Another big license launching in August is
Thunder Agents
, written by Phil Hester and we're pretty excited about that one as well.
On our art book front, we got all kinds of cool Artist's Editions coming out over the next couple of months. We've got
The Best of EC
, which has an amazing Frank Frazetta cover and really is what it says. It has a smorgasbord of some of the best EC comics. Seeing the original art for these stories is an unbelievable experience.
Where did you turn up the art for those?
Scott Dunbier works his magic on that stuff, I honestly don't even know. He's truly like a magician. He finds the art and it's all the classic EC stories. It's just an extraordinary book.
We're doing
Xenozoic Tales
with Mark Schultz, which was a book I grew up reading. Again, seeing the original art for that is--I have to be careful not to look at that at work, because hours of the day just disappear. To be able to sit there and look at Mark's art is a unique experience.
Later this summer we have Jeff Smith's
Bone
coming out. For me as a publisher, to be able to do anything with Jeff is incredible, but to be able to publish
Bone
and the original art for
Bone
is truly a dream come true.
Bone
is a book I read with my kid, and we read every page of that together. It's a pleasure to be able to publish that.
We're also doing our first book with DC, a Superman collection culled from what we're calling the Silver Age newspaper dailies, from 1959-1961. Dean Mullaney with the Library of American Comics has done his usual bang-up job with that so the strips look amazing, and there's all kinds of editorial material around those strips. That's a great book.
We also have
The Worlds of Sam Kieth
coming out, which is a big art retrospective and it's kind of morphed into an autobiography. Sam's told a lot about how he got into comics and his approach to art. That'll be a really nice book for fans of his.
We've also got a book from Jim Mahfood coming out this summer called
Visual Funk
. I've always been a big fan of Jim's art so I'm excited about that one. And we're doing a book with Grant Geissman about Al Feldstein which will be out for Comic-Con, in stores early July. A really nice retrospective of Feldstein's career, which is much more than what he's best known for, which is the EC stuff. It's a really good look at his entire career.
We always have lots of great books with Craig Yoe. He's got
Jack Cole's Deadly Horror
coming out this month. We have another classic
Popeye
book coming out with him and some other fun books from him as well.
If look at our three main areas--licensed, creator-owned, and art books--that we really have some fun stuff coming out this summer.
With the market doing so well for almost two years and ever expanding media attention to our industry, do you see any risks?
I think about that a lot, and I mentioned before the reason I think our market is stable right now is that it's not speculator-driven. There's some of that with variant covers and with, not so much us, but with some of our bigger competitors where you buy a certain number of books and you get this super rare cover that you can throw on eBay for $100, or whatever it is. But that's not what's driving the business.
It's not like those of us who lived through the 90s and we saw that crazy speculator boom where consumers were buying hundreds of copies of individual comics and retailers opening up all over the place--people who had no business opening up shops were opening up shops. That was never sustainable. In the short run, some people got really rich out of it so yay for them, but in the long run that was never going to work. Whereas what we see today is not that explosive growth; we're seeing nice, steady, solid growth, not speculator-driven; we're not seeing thousands of new stores opening up by people who don't know how to run stores.
So I don't see any of those warning signals that we saw before. It's not to say that there's maybe something I'm missing, but it doesn't feel as risky as the last time comics were having the success that we're seeing today.
So the biggest risk might be bad comics?
Yeah, that's true. We all need to keep on our game, but I also think there's enough diversity in the marketplace that even if one of us stumbles and one of us starts putting out lousy comics, there's a good mix. If you look at the bestseller list, particularly for graphic novels, that's not being driven exclusively by superheroes and hasn't been for a long time. There's a really nice diversity out there so if you look at the big five publishers, the premier publishers with Diamond, I think if one of us stumbles the other four will be strong. I think it will be unlikely that we'll head back to the days where mediocre comics were being way over-purchased by speculators.
Click here for
Part 1
, where the interview kicked off with an overview of the market and IDW's place in it, including market conditions, the demographic breadth of readers, how IDW is better at books without Borders, IDW's high-end strategy, how digital event comics can be marketed better than print, and the digital share of IDW's business.