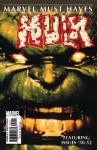 Marvel has announced that it will be expanding its Marvel Must-Have program to include more titles reprinting consecutive issues in a storyline, including soliciting some Must-Have titles through Previews, rather than on an expedited schedule to respond to a quick sell-out. A Must-Have edition collecting Hulk #50-#52 will be on-sale May 7th, the next release of this kind. Then six Must-Have collections will be solicited in the May Previews, shipping in July:
Incredible Hulk #34-#36 by Bruce Jones, John Romita Jr., and Tom Palmer
Ultimates #1-#3 by Mark Millar and Bryan Hitch
Ultimate X-Men #1-#3 by Mark Millar and Adam Kubert
Ultimate Spider-Man #1-#3 by Brian Michale Bendis & Mark Bagley
Amazing Spider-Man #30-#32 by J. Michael Straczynski and John Romita Jr.
New X-Men #114-#116, by Grant Morrison and Frank Quitely
All seven of the issues listed here will retail for $3.99.
The tactic of reprinting consecutive issues rather than a collection of disparate issues was first adopted with Marvel's Must-Have edition of Ultimate Venom (see 'Marvel Must-Have Reprints Storyline').