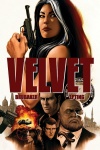 Image Comics announced a flurry of new projects at Image Expo in San Francisco today (and on Twitter, where #IMAGEEXPO is the #2 trending topic as this is written), with new work by Brubaker, Fraction, Millar, Straczynski, and more.
Velvet
, by Ed Brubaker and Steve Epting, will launch in October. The title character, Velvet Templeton, is a personal assistant to the head of an intelligence agency, a "Moneypenny kind of character." Brubaker has been working on the concept for eight years.
ODY-C
, by Matt Fraction and Christian Ward, is a gender-bending adaptation of the Odyssey, in which the male characters are women and vice versa. It will launch in 2014. Other Fraction projects in the pipe include
Sex Criminals
, with art by Chip Zdarsky, which is a sex comedy in which a girl and boy both find out that time stops when they have sex and begin robbing banks. And
Satellite Sam
, Fraction's book with Howard Chaykin, announced at San Diego last year (see "
Image Comics Announces New Projects
"), will also launch in 2013.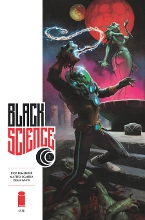 Rick Remender talked about two new books at Image Expo.
Black Science
, with art by Matteo Scalera and colors by Dean White, will launch in November. It's about a member of the Anarchist League of Sciences, according to Remender, and is inspired in part by Frank Frazetta. Andrew Robinson will do covers.
Deadly Class
, with art by Wesley Craig, is about a high school for assassins and the 80s hardcover scene. Colors will be by Lee Loughridge.
Mark Millar appeared at the Expo via a video in which he announced
MPH
, an attempt to create a superhero universe a la Marvel for the 21st century. The new series will launch in January with art by Duncan Fegredo.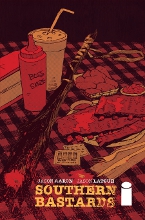 Jason Aaron and Jason Latour are launching
Southern Bastards,
which Aaron describes as
Dukes of Hazzard
meets the Coen Brothers.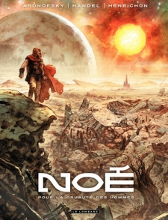 J. Michael Straczynski announced that he is consolidating all of his creator-owned content at Image under his Joe's Comics imprint. That includes
Book of Lost Souls
, with Colleen Doran, and
Dream Police
, which are moving to Image from Marvel/Icon. Straczynski is also planning a new six-issue series,
Alone
, with Bill Sienkiewicz, that will deconstruct comic storytelling.
Sidekick
(see "
JMS's Joe's Comics Returns
") will launch in August with art by Tom Mandrake.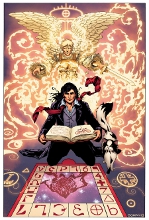 And
Noah
, the story for an upcoming movie by Darren Aronofsky (
The Wrestler, Black Swan
), will also be released in the U.S. by Image. Art is by Niko Henrichon, with story by Aronofsky. It's a bandes dessinees album series first released in French, based on the Biblical story.
The film, starring Emma Watson, Logan Lerman, Russell Crowe, Jennifer Connelly, and Anthony Hopkins, will open in 2014.