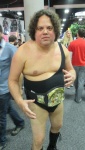 We continue the story of Comic-Con in pictures with our Saturday photos. See also
Part 5
,
Part 6
, and
Part 8
;
Part 9
for Sunday. Or go back to
Part 1
.
NOTE: Any image can be clicked for a larger view.
"The Eighth Wonder of the World"--Andre the Giant!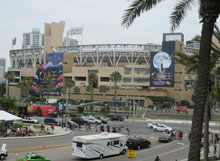 The exterior from Petco Park, across from the south end of the Convention Center, was branded with ABC's
Once Upon a Time
.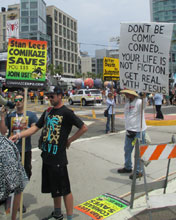 Exchanges with the proselytizers were more involved this year, with some companies incorporating the scene into their marketing. Here a real proselytizer is flanked by a street team with a bullhorn (see "
Interview with David Glanzer
"), promoting an Avanstar show organized with Stan Lee's POW! Entertainment, planned for Los Angeles later this year.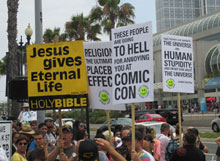 A group of atheist counter-demonstrators showed up.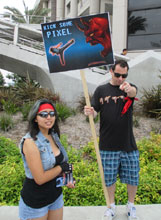 This marketing gimmick promoted Victory Point Games' iOS and Android game
Roundhouse.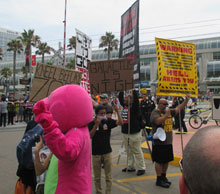 And here we have a proselytizer with a bullhorn and friends, along with the "Kneel Before Zod," "Galactus is Nigh" folks, who were also in attendance last year.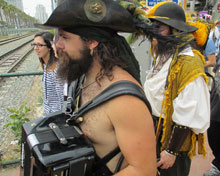 Pirates, one with an accordion and one with a cup shoved into his shirt, cross the tracks heading for the convention center.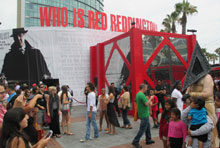 This restaurant take-over promoted
The Blacklist
, from NBC.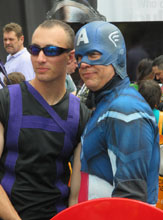 Hawkeye and Captain America buddy up.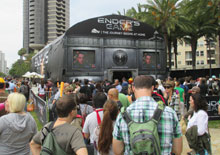 An
Ender's Game
installation, across from the Convention Center.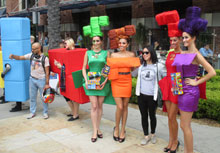 A team promoting Hasbro's
Tetris Jenga
and
Tetris Bop It
poses with passersby.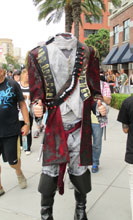 This dude was navigating the street pretty well, considering HE DIDN'T HAVE A HEAD!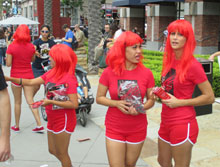 This team was promoting
Red Rising
, a Del Rey novel due out in January.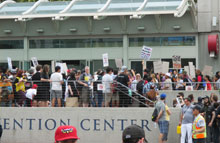 And just when we thought the scene around the Convention Center couldn't get any more chaotic, the Trayvon Martin demonstraters marched through, chanting.
Elektra came to the show, despite having no movie.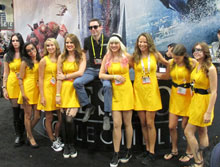 A lucky convention attendee says hi to the yellow-clad group at the Sideshow booth.
Click here to go to
Part 8
.