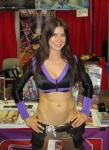 We conclude the story of Comic-Con in pictures with our Sunday photos. Go back to
Part 1
to start at the beginning, or to
Part 5
, to check out Saturday.
NOTE: Any image can be clicked for a larger view.
Co-creator Alina Andrei (along with Mark Edward Lewis) of
Omega One
, available both in print and as a motion comic.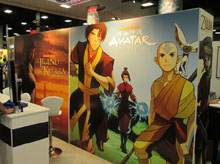 Dark Horse was making the most of its two powerhouse Nickelodeon properties --
Legend of Korra
and
Avatar: The Last Airbender
.
The Webcomics area at Comic-Con is always a hopping spot. Here's Keenspot, whose booth is vertical now.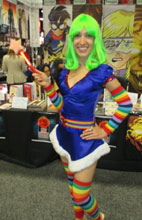 This dayglo fairy was hanging by the Keenspot booth.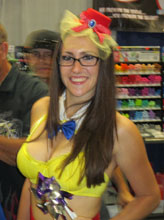 Another costume featuring dayglo, this time carrying a pinwheel instead of a star wand.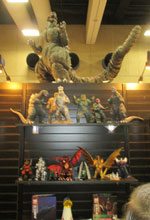 Diamond Comic Distributors brought a display of Godzilla figures, consistently in demand.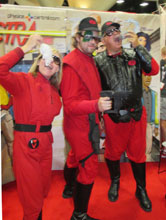 Some refugees from the canceled TV show
V
eating rodents at the Physics Central booth (via the American Physical Society), where you'll find Spectra, the Original Laser Superhero.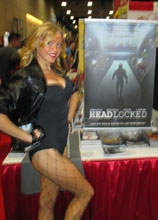 Promoting
Headlocked
, a wrestling comic written by Michael Kingston, with interior art by New Zealand wrestler Michel Mulipola, colors by Chuck Obach, and cover by Jerry "The King" Lawler, currently on Kickstarter.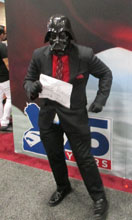 Dressed nattily in black and red, offering "Free Dance with Lord Vader."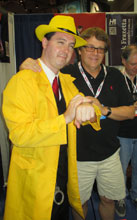 Writer Max Allan Collins, at the Hermes booth signing
Mickey Spillane's From the Files of Mike Hammer: The Complete Dailies and Sundays
(for which he wrote two essays)
,
gets a visit from old pal Dick Tracy. Hermes proprietor Dan Herman is checking his Facebook in the background.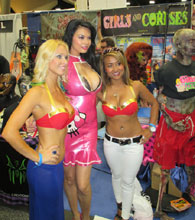 And perhaps a good place to wrap up our coverage, these models are promoting the magazine
Girls and Corpses
, described as "
Maxim Magazine
meets
Dawn of the Dead.
"