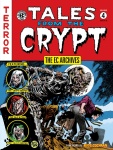 Picking up where Gemstone Publishing left off in 2009, Dark Horse Comics is taking over the publishing reigns of the EC Comics Library, beginning with
Tales from the Crypt Volume 4
($49.99), releasing October 30th.
Vault of Horror Volume 3
($49.99) will follow in January.
Tales from the Crypt Volume 4
reprints issue #s 35 through 40 of the original EC horror series, which featured art by the likes of Jack Davis, Joe Orlando, Jack Kamen, Graham Ingels, George Evans, Reed Crandall, Bill Elder, and Bernie Krigstein. Marie Severin's original colors will be used as a guide as the artisans at Dark Horse digitally recolor the pages of each reprint volume.
Assisting Dark Horse in this venture is publisher Russ Cochran, with guidance by Cathy Gaines, the daughter of the late EC publisher, William M. Gaines.
--Brett Weiss