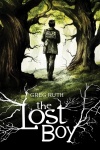 The Lost Boy (HC & TPB)
Publisher: Scholastic/Graphix
Release Date: September 2013
Price: $24.99 (Hardcover); $12.99 (Trade Paperback)
Creator: Greg Ruth
Format: 192 pgs., 6" x 9", Hardcover
ISBN: 9-780-4398-2331-9 (HC); 9-780-4398-2332-6 (TP)
Age Rating: Ages 8+
ICv2 Rating: 4 Stars out of 5
This book has concepts and images that may be too disturbing for very young readers, but for kids old enough to read things like
Goosebumps
without suffering screaming nightmares, this will be an attractive book.
Nate and his family have moved to a new town. Before he can even get settled in he befriends Tabitha, his new neighbor, and gets caught up in a mystery. There's an old tape recorder hidden under the floorboards of his new bedroom, one that may connect to a boy who had gone missing fifty years earlier. The voice on the tape tells a seemingly impossible story. As Nate tries to understand the contents of the tape, he begins noticing the impossibilities from the tape creeping into his own world.
Greg Ruth's art reaches into both silliness and creepiness, as well-dressed squirrels, living antique dolls, giant toy soldiers, killer insects and a host of other things wander in and out of Nate's reality.
The ending suggests that there is more to this compelling story, and readers who enjoy it will clamor for Greg Ruth to hurry up and finish the next part. It falls roughly halfway between
Twilight Zone
and
Amulet
, in a good way.
--
Nick Smith: Librarian Technician, Community Services, for the Pasadena Public Library in California.