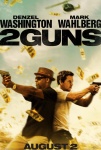 2 Guns
, which is based on a Boom! Studios comic book written by Steven Grant, easily topped the box office charts with an estimated $27.4 million debut. Fox's
The Wolverine
slipped to #2 with an estimated $21.7 million, while
Smurfs 2,
faced with competition from a glut of family films, opened disappointingly in third place with $18.2 million. Overall the total of the top 12 films was up a healthy 12.2% from last year as Tinseltown's winning streak continued.
Directed by the Icelandic helmer Baltasar Kormakur,
2 Guns
paired Denzel Washington and Mark Wahlberg for the first time, and the two action stars delivered an ethnically diverse audience (28% African-American, 14% Hispanic). Women made up 49% of the opening weekend crowd, which was largely older (77% over 25), even for an "R" rated film. Produced for just $61 million (after tax incentives),
2 Guns'
solid American opening should translate well overseas. Meanwhile the popularity of the two leads should keep
2 Guns
in theaters here for a while. Reviews for
2 Guns
have been mixed (58% positive on Rotten Tomatoes), but shouldn't hurt (especially for this genre), nor should the muted audience reaction (a fair-to-middlin' "B+" CinemaScore).
Weekend Box Office (Studio Estimates): August 2-4, 2013

Film

Weekend Gross

Screens

Avg./

Screen

Total Gross

Wk#

1

2 Guns

$27,361,000

3,025

$9,045

$27,361,000

1

2

The Wolverine

$21,725,000

3,924

$5,536

$95,039,000

2

3

The Smurfs 2

$18,200,000

3,866

$4,708

$27,761,000

1

4

The Conjuring

$13,660,000

3,115

$4,385

$108,590,000

3

5

Despicable Me 2

$10,391,000

3,207

$3,240

$326,668,000

5

6

Grown Ups 2

$8,100,000

3,075

$2,634

$116,400,000

4

7

Turbo

$6,400,000

2,985

$2,144

$69,479,000

3

8

Red 2

$5,650,000

2,755

$2,051

$45,153,000

3

9

The Heat

$4,725,000

2,074

$2,278

$149,566,000

6

10

Pacific Rim

$4,570,000

1,803

$2,535

$92,961,000

4
Fox's
The Wolverine
dropped 59% in its second weekend as it brought its domestic total to $95 million, which is still well behind the total earned by
X-Men Origins: Wolverine
, which had brought in $122.1 million at this point in its run back in 2009. Fortunately for Fox,
The Wolverine
continues to do well overseas where it has already brought in $160.2 million bringing its current global total to $255.2 million.
Foreign earnings will also undoubtedly save
Smurfs 2
, the animated/live-action hybrid sequel, which many analysts initially thought would have a good chance to challenge for the top spot, but which opened to a disappointing $18.2 million
. Smurfs 2
actually opened on Wednesday and has taken in $27.3 million over the five days, but this is well below the $35.6 million that the first
Smurfs
movie took in in just 3 days back in July of 2011. So far the second
Smurfs
movie has taken in $52.5 million overseas, where the first
Smurfs
movie earned 70% of its final tally.
The Conjuring
continues to impress with its "legs." The $20 million horror film dropped just 38.5% as it earned $13.6 million and brought its domestic total to $108.6 million as it demonstrated that fans will turn out for horror movies in the summer--if the film can deliver the goods.
Despicable Me 2
just keeps ploughing ahead. The minion-powered sequel earned $10.3 million in its fifth weekend as it brought its domestic total (#2 for 2013 so far) to $326.7 million.
Another summer surprise, though of a more modest sort, is Adam Sandler's
Grown-Ups 2
, which dropped just 30% in its fourth weekend as it brought its total to $116.4 million, which may be approaching some kind of a record for a film with just a 7% positive rating on Rotten Tomatoes.
The
Smurfs 2
is not the only casualty of Despicable Me 2's box office dominance. Dreamworks'
Turbo
, a well-produced expensive animated feature, continues to fade. So far the $135 million film has managed to bring it just $69.4 million in North America.
Another film that may have difficulty making its cost back is the comic book-based
Red 2
, which cost just $84 million to produce, but which has earned less than half the total needed to defray its production cost.
The same is true on a much larger scale for Guillermo Del Toro's
Pacific Rim
, which fell to #10 in its fourth weekend as it earned $4.5 million to bring its domestic total to $92 million. The movie is doing much better overseas where it has brought in just over $200 million, but it will have to double that total just to break even due to its huge production cost (at least $190 million).
The list of casualties from the intense box office competition this summer is long, but few films have fared as poorly as Universal's
R.I.P.D
., which slipped out of the top 10 in only its third weekend with a domestic total of just $30.4 million so far. Since
R.I.P.D
., which cost $130 million, was not as expensive to produce as some of the other fallen "tentpoles" it may not end up losing the most money, but it looks like it will be the big movie that attracted the fewest customers during this overheated summer movie session.
Summer may be winding down, but the competition at the box office won't get much easier next weekend as the YA adaptation
Percy Jackson: Sea of Monsters
opens on Wednesday followed by the new science fiction film
Elysium
from the creator of
District 9
on Friday--and Disney's
Planes
enters the crowded family film marketplace as well. Check back here next Sunday and see who survives.