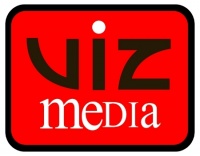 ICv2 interviewed Viz Vice President Publishing Leyla Aker and Director, Publishing Sales and Marketing Kevin Hamric at Comic-Con to get an update on the state of the market and Viz's place in it. In Part 1, we talk about the state of the manga market, how Viz plans to use the day and date digital Shonen Jump to develop print content for the U.S., and the competition between paid digital content and free. In Part 2, we talked about Viz's publishing plans for the coming months, including its kids program and the potential for new manga hits.
What do you see as the current status of the market for manga overall?
Hamric:
Manga sales are strong. Our fiscal year started out extremely strong. Our first quarter just ended; we're extremely pleased with the results. Manga in general, after the upheaval the past couple of years, has stabilized and is maybe even growing a little bit from our perspective both from the p-side and the e-side. Everything is where we want it to be and maybe a little more in North America, but even internationally in the markets in the UK, New Zealand and Australia as well.
Did you see pretty substantial declines on the book side in 2012?
Hamric:
We did not experience that. When you lump everything with graphic novels, you saw that there was an increase, but a lot of that is
The Walking Dead
and DC's "New 52." We did not experience the same type of decline as other manga publishers.
Aker:
If you look at what Brian Hibbs does with his BookScan roll-up every year, and he reported something like a 30% decline. We definitely saw nothing like that. The short answer is that we did have a couple of challenging years, especially after the bust in 2008 and with the Borders closure--that affected us, but as of last year, our market at least, stabilized and our first quarter this year, as Kevin said, is looking really positive.
By positive, do you mean up year over year?
Aker:
Yes.
How about in the comic stores?
Hamric:
Strong in the direct market with the comic book stores. Where we're seeing the increase there is in our children's book publishing and our three-in-one omnibuses are doing extremely well, but recently even with the more literary-type things like
Sunny,
from the author of
Tekkoninkreet
, we've seen a jump there. I still want that market to grow more and I think there's still room for it to grow more.
What does Viz have going on with the mass merchants?
Hamric:
We're in Walmart right now with
Naruto
and
Bleach
. It does quite well. They take all the new volumes. There's usually two on the shelf--as the new one comes in, the third one comes out.
So if people buy it there, they have to go find the first 59 somewhere else.
Hamric:
Yes. And the kids product is getting a strong response. We're going to get
Uglydolls
and
Max Steel
into mass merchants. They're very pleased with the I.P.s we're coming out with.
So it's a mix of your kid stuff and bestselling manga?
Hamric:
Exactly.
Can you talk about the changes you've made on the digital side in the past year?
Hamric:
On the digital side, what Viz is marching toward is that we want people to access our content any way they can, any way they want, and anywhere they want. So if they want to read it in print, we obviously want them to be able to buy it wherever they can. If they want to read it electronically, we want to be on as many platforms as we can and partnering with those retailers. We just announced Kobo.
Are
you on Kindle?
Hamric:
No, we're not on Kindle. We're on iOS, our own platform, and now Kobo, and in the library market with iVerse.
You started doing Weekly Shonen Jump in January in simultaneous release in Japan (see "
U.S. Shonen Jump Goes Day & Date with Japan
"). What's the response been to that?
Aker:
The response has been positive, as you would expect.
Kevin was talking about having all of our material available in the widest range of formats possible. The other side of that is having the material available as soon as possible because our particular product is unique in the comics industry in that it's licensed product and it's previously available in other forms elsewhere. If DC releases something digitally, they dictate when that happens. With our material we're up against time pressures, so digital has been really helpful to us in terms of shortening and in some cases, eliminating that time lag. For
Shonen Jump
, and it's not a stretch to say for all our product in general, the ultimate aim is to have true, simultaneous global manga available for all fans.
Was there a response in terms of increased subscribers?
Aker:
There have been increases in subscriptions, for sure. I don't have those numbers on hand, but there's definitely been a positive response.
We asked a year ago and would like an update as to what the circulation of the digital form of Shonen Jump is relative to the print version when you canceled it?
Aker:
It's certainly smaller, but I don't know by what proportion that is. But as we roll out the digital version of the magazine in different platforms, that's going to increase. When that started it was just on our platform which is pretty constrained when you're going from print.
Kevin:
Shonen Jump
is now available in the UK and the Republic of Ireland, South Africa, New Zealand and Australia.
You're caught up on Weekly Shonen Jump in terms of the Japanese release, and some of that new material is subsequently collected into tankoubon volumes in Japan. What's going to be the relationship between that Japanese pattern of tankoubon release and the American pattern of print release of that material?
Aker:
We're basically doing the same thing we do with print, which is a modified version of what the Japanese do. The big difference with having
Shonen Jump
in digital is that previously whatever series we had running in the print version of
Shonen Jump
always went to graphic novel. With the digital version of
Shonen Jump
, we have more latitude to include more series and all of those may not necessarily go to print.
That's what happens in Japan, right?
Aker:
Yes, exactly. So, we're actually getting closer to the Japanese model, in that whatever runs in digital
Shonen Jump
magazine will get a digital graphic novel release. That will always happen. The most popular series will get the print release. Yesterday we just re-announced from Anime Expo,
Nisekoi
, which is one of the current series that's running in the magazine, has already seen the graphic novel version released in digital. And we've had such a good response; we're going to take it to print now. I think we're going to be seeing more of that kind of pattern emerging which is much closer to the Japanese model of really issuing the formats based on what the consumer responses to the series are.
In Japan, they survey readers of Weekly Shonen Jump to figure out what they want to see in collections. With digital, you potentially have the ability to see which stories they read and which stories they stopped in the middle. Are you using any of that data to inform your choices about what to collect?
Aker:
Yes. We're definitely using the old fashioned survey system on a weekly basis. We're constantly querying the fans with "What do you want to see, what do you like" so on and so forth, but yes, that is where digital offers you a lot more tools than analog does. That you can really look at what consumers are responding to, see what series that actually really are spending time on and reading.
Last year you said you were shooting for 1,000 volumes by the end of last year available digitally. Where are you now in terms of the amount of material available?
Hamric:
We have over 1,500 volumes available right now.
And where do you think you'll be by the end of the year?
Hamric:
At the current release schedule, probably just after Christmas, we'll be at 2,000.
How many print volumes are in print?
Aker:
I would say it's somewhere around 4,000.
One of the reasons time is important with digital is that you're competing with free. How do you evaluate the state of the piracy landscape and what impact do you think that's having?
Aker:
It's had some impact, but to be honest, we'll never have the tools to really gauge that. You can't tell "did you stop reading pirated editions because of this?" But anecdotally, we have seen responses from online users who started purchasing and reading the legitimate version of
Shonen Jump
and have abandoned scanlations, so some people are doing it. We hope that the messaging gets across that, "look, the timing is exactly the same; you're getting better quality translations; you're getting the official product, the difference now is simply the free vs. purchasing it." We hope that at least people realize that it's a matter of supporting the artists. It's a matter of supporting the actual production of this content.
What about on the enforcement side? Over the last few years there have been big sites that have been shut down or voluntarily reduced the amount of scanlated content they disperse. What's the current situation there?
Aker:
It's always an ongoing process. Some of the big aggregator sites did take down our content after we requested that they do so. The reality is that the stuff turns to other sites and it'll come back. However, I think there are some gains made.
The industry overall is waking up to the fact that this is a really big problem. The big news that just came was Google saying they're going to cut off ad revenue to piracy sites, which is something that I imagine a lot of publishers and other I.P. holders are going to take advantage of.
You talked about the impact of speeding up the U.S. release of digital content on combating piracy. Have you noticed any effect on print sales due to changes to the digital side over the past couple of years?
Hamric:
None whatsoever.
Aker:
I'm sure you're hearing this from other publishers as well, to this day we still don't see a strong correlation between print and digital in terms of consumers. There's overlap for sure. There's people who are buying both; there's people who are buying one or the other, but people who buy print editions--whatever is happening with digital or online piracy is not going to affect their choices because they want that physical object.
Click here
for Part 2.