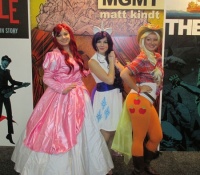 We concluded our Comic-Con photo series with
Part 9
, last month, but found a missed sequence from Sunday. Go back to
Part 1
to start at the beginning, or to
Part 5
, to check out Saturday.
Note: Any image can be clicked for a larger view.
Cosplayers, hanging by the Dark Horse booth.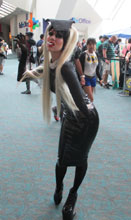 An NBC Fridays bus, flogging
Grimm
and
Dracula.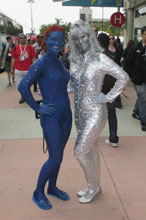 Mystique and a sparkly person, still smiling on Sunday.
Looking for a light, on the way in.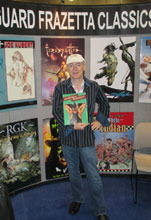 Vanguard's David Spurlock with his company's excellent
The Alluring Art of Margaret Brundage
, collecting the art and telling the story of the "Queen of the Pulps"--one of the summer releases we liked best.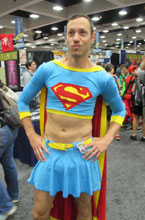 Supergirl, strutting his stuff.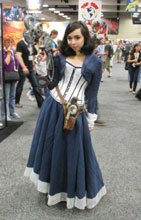 Promoting
Aliens in LA
, "a collaborative project between photographer Christopher Nelson and artist Treiops Treyfid shot on the mean streets of Los Angeles," a Comic-Con exhibitor.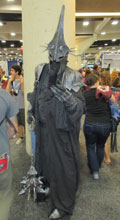 A dark cloud was cast as the Witch-king of Angmar (the Lord of the Nazgûl) appeared… where is Elrond when we need him?!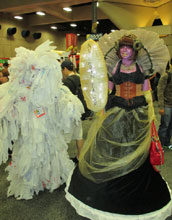 Smiling and surreal.