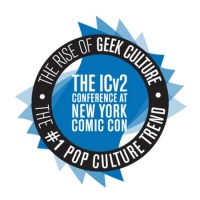 An ICv2 Release.
Geek culture is the #1 North American pop culture trend, but when geek is prime time, what's next?
This fall, three primetime live action series based on comics will be on television (
The Walking Dead, Arrow,
and
Marvel Agents of S.H.I.E.L.D.,
which is getting a high-profile premiere on a major broadcast network tonight), with plenty of other genre shows on broadcast and cable networks. Shows like
The Walking Dead
and
Game of Thrones
are setting records for their networks and setting new, higher bars for cable viewership.
In films, a total of 12 comic-based features have gone or will go into wide release in North America this year, a record. Several of those are among the highest-grossing films of the year. And that doesn't count the other geek properties like
Star Trek, Pacific Rim
, or
World War Z
that are also filling theaters.
Geek culture arose in small gatherings of fans (see "
World According to Griepp--The Origins of Geek Culture
") that formed the roots of what has now become a huge cultural phenomenon.
What's going on back in the fan gatherings where geek culture was spawned? Comic stores are now widely known and depicted in pop culture, from reality shows to top-rated network sitcoms, and probably have a greater awareness as a group than at any time in the history of the channel (see "
Confessions of a Comic Book Guy--No Sheldons
"). Sales in existing stores are growing nicely, but the total number of places to buy comics or graphic novels doesn't seem to be going up that much, if at all. Conventions are also growing, although the largest ones have reached the capacity of their facilities.
Marketers are finding new ways to align with geek culture properties (hello,
The Walking Dead
debit cards
), broadening their impact rapidly. And there's an ad agency, Bonfire Agency, dedicated to assisting consumer brands in engaging with geek culture (see "
Bonfire Announces FanPan
").
Some argue that we may be reaching Peak Geek (see, for example, columnist Rob Salkowitz on "
Comic-Con 2013: A Few First Impressions
" and "
Big Media Scrutiny Becoming the Norm for Pop Culture Businesses
"), from where we either need to find new markets or risk collapsing back into a subculture.
What do you think? Is the flow of geek into the general culture an inexorable trend that's going to continue until there's no difference between geek culture and mass culture? And if so, what does that do to the roots of geek culture in comic stores and conventions?
Or is geek culture going to remain a subculture—useful to major brands and entertainment companies, but something apart from the broader culture?
We'll try to find the answers at the ICv2 Conference at New York Comic-Con in the panel on "The Rise of Geek Culture," with this panel of experts:
Gerry Gladston, Co-Owner, Midtown Comics
Shawn Kirkham, Director of Business Development, Skybound (
The Walking Dead
)
Steve Rotterdam, co-founder, Bonfire Agency
Rob Salkowitz, author, writer of Comic-Con and the Business of Pop Culture
Intro presentation by Ed Catto, co-founder, Bonfire Agency
Moderated by Milton Griepp, CEO, ICv2
Comics Ahead!—The ICv2 Conference will take place at the Jacob Javits Convention Center, from 1:00 to 5:00 p.m. on Wednesday afternoon, October 9th.
Want to come? Register by
clicking here
.
For more information,
click here
.
And if you'd like to suggest questions or discussion topics for our panel (there'll be lots of press at the Conference, so you'll hear what people say even if you're not there), feel free to contact moderator Milton Griepp (
Mgriepp@icv2.com
).