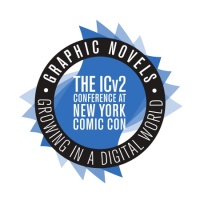 An ICv2 Release.
Graphic novels have been lagging comics in recent years, but could graphic novels be the key to a mass audience?
Through the mid-00s, graphic novels seemed to be the key to a larger, more diverse audience for comics, with manga, literary comics, non-fiction and media tie-ins all contributing to rapidly growing sales in both the book and comic channels and bigger sections in libraries. A format most people are familiar with (complete stories in a single book volume) seems tailor-made for a mass audience.
But graphic novels in print have had a rough go the last few years, with the closing of Borders, the weakening of other bookstores, austerity for libraries, and the decline of manga all working together to challenge the segment. And to a much greater degree than for periodical comics, the digital market has been fragmented, with content split among multiple platforms and formats.
This year, in an amazing turnaround, sales of graphic novels in bookstores have been growing again, despite fewer doors and declining same store sales over-all (see, for example, "
Book Chain Makes Money
"). Those increases join stronger graphic novel sales in comic stores, where sales were up over 9% through mid-year.
How is this growth happening, and what does it teach us about the opportunities for print graphic novels in an environment where the overall book business seems to be moving digital (albeit at a slower rate than it was)?
And how can digital graphic novels reach the big spectrum of potential audiences for the wide variety of content they offer?
We bring together an expert group to discuss these huge opportunities at the ICv2 Conference at New York Comic Con in the panel on "Graphic Novels—Growing in a Digital World:"
Leyla Aker, Vice President Publishing, Viz Media LLC
Greg Goldstein, President and COO, IDW Publishing
Trudy Knudsen, Manager eContent Acquisitions, Follett
Dallas Middaugh, Director, Publisher Services, Random House
Barry Nalebuff, author; consultant; co-writer,
Mission in a Bottle
; Milton Steinbach Professor at the Yale School of Management.
Rich Johnson, Founder, Brick Road Media, overseeing Penguin's InkLit imprint, Adjunct Professor, Drexel University
Moderated by Calvin Reid, Senior News Editor of Publishers Weekly
Comics Ahead!—The ICv2 Conference will take place at the Jacob Javits Convention Center, from 1:00 to 5:00 p.m. on Wednesday afternoon, October 9th.
Want to come? Register by
clicking here
.
For more information,
click here
.