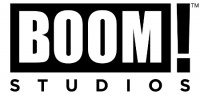 20th Century Fox has signed a first look deal with BOOM! Studios (including Archaia) under which Boom! will receive first-dollar gross points on movies made from its properties,
according to Hollywood Reporter.
BOOM! will then split that money 50/50 with its creators, as is its business model. The first-dollar gross structure is potentially very lucrative for BOOM! and the creators of its books if movies get made.
"In an era where Jack Kirby doesn't get paid for
The Avengers
, we are bringing the Jack Kirbys into the circle," BOOM! CEO Ross Richie told
THR
. "They can use our expertise in the field while they focus on being creative."
Archaia's Stephen Christy and Richie will serve as producers on their respective projects.
Archaia has multiple projects already in development at Fox, including
Rochester
and
Rust
(see "
'Jane Eyre' Graphic Novel to Movie
"). BOOM! did
2 Guns
with Universal (see "
'2 Guns' Wins Box Office Shootout
"), and also has at least one other project there (see "
BOOM! Studios' 'Day Men' Optioned
").
The deal also gives Boom! access to the 20th Century Fox library for comic adaptations. If movies based on the comic versions are then made, BOOM! would once again get a piece.
In a boost for San Diego Comic-Con booth sales, the deal was reportedly spawned when Fox executive Mark Roybal picked up a stack of books at the BOOM! / Archaia booth at the show.