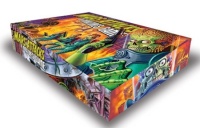 Mantic Games'
Mars Attacks: The Miniatures Game
(see "
'Mars Attacks' War-Game
") will launch to the trade in September 2014, after a Gen Con launch. The game is currently running on Kickstarter, with a retail level. Fulfillment for the backers is planned for August 2014.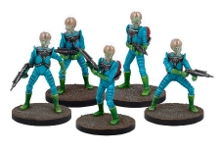 The Kickstarter itself blew through the initial goal of $50,000 in just 15 minutes, and as of this writing (Oct 5th) has reached $200,000 with almost 1,500 backers. It will run through November 10th.
Based on Topps'
Mars Attacks
Cards and Comics – and celebrating its 50th anniversary –
Mars Attacks: The Miniatures Game
includes everything to play a two-player tabletop tactical game right out of the box. Box contents have not been revealed, other than pictures of some of the highly detailed miniatures (which come unpainted) and word from Mantic that the game "will be backed up with a complete range" of what is funded by the Kickstarter. Currently (as of Oct. 5), the base game includes 9 turquoise Martian grunt minis, 8 green US soldier minis, 1 red Martian General mini, 4 red individual hero character minis, as well as 54 cards, game counters, 6 eight-sided dice, a game mat with modular scenery, and a rulebook. MSRP is set at $75.00.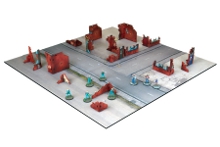 There is a retailer pledge level on the Kickstarter (the $500 "Alliance Assembled" pledge), which Mantic says grants store owners their normal discount, plus 5% for the trade release. As this is a trade-only level, pledgers must contact Mantic through the Kickstarter for details.
But regardless of whether through backing the Kickstarter or the trade release, there would seem to be opportunity for retailers; Mantic reports that previous games have exceeded Kickstarter sales with the trade release (see "
Mantic Games Topping Kickstarter with Trade
").