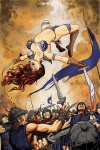 New York Comic Con News:
Dynamite Entertainment and Dark Horse Comics announced the first crossover in 15 years that will unite the two greatest barbarian characters in comic book history,
Conan the Barbarian
and
Red Sonja
. Two series will be published,
Conan/Red Sonja
and
Red Sonja/Conan
, by Dynamite and Dark Horse respectively.
Red Sonja
writer Gail Simone (see "
Gail Simone on Her New 'Red Sonja' Series
") and Brian Wood, who is just finishing up an acclaimed 25-issue run on Dark Horse's
Conan
, are collaborating closely on the crossover series, which is slated for publication in 2014.
It has been more than 15 years since the comics' leading barbarian "power couple" have gotten together, though this is one crossover that makes perfect sense in so many ways--and in Simone and Wood it appears that Dark Horse and Dynamite have put together the perfect writing team for the endeavor. Look for announcements concerning the artists who will be working on the series and other details in the coming weeks.