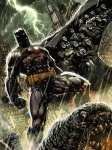 New York Comic Con News:
DC Comics has announced that lead
Batman
writer Scott Snyder will function as a "Showrunner" on a new week
Batman
series,
Batman Eternal
, which will launch in the spring of 2014 and run for a year. Snyder will coordinate a team of Bat-Writers that will include John Layman (
Chew, Detective Comics
), James Tynion IV (
Talon
), Ray Fawkes (
Justice League Dark
), and Tim Seeley (
Revival
). So far the only artist announced for the project is Jason Fabok (
Detective Comics
).
Snyder told
USA Today
the year-long
Batman Eternal
will alter the status quo for the Dark Knight and his home town, noting that the project gave him "a place for me to be able to work with good friends in terms of shaping Gotham in a bigger, grander and more game-changing way than ever before, we're gonna give you the biggest, craziest and most fun stuff we've done on the book and in the world of Gotham." According to Snyder,
Batman Eternal
"sets the stage for a new Gotham and new characters and a new set of stories that will take Batman into 2015."
Snyder is also contributing to a massive 96-page
Detective Comics
#27, which ships in January and which commemorates the 75th anniversary of the initial appearance of Batman in the original
Detective Comics
#27 that introduced Batman to the world of comics in 1939. The commemorative issue features an all-star lineup including writers Paul Dini, Brad Meltzer, Gregg Hurwitz, and Peter Tomasi, plus artists Neal Adams, Dustin Nguyen, and Francisco Francavilla, as well covers from Adams, Jim Lee, Greg Capullo, Chris Burnham, Kelley Jones, Patrick Gleason, and Mike Allred. In addition legendary Batman creator Frank Miller (
Batman: Year One, The Dark Knight Returns
) will contribute a two-page spread to the issue.
Also featured in
Detective Comics
#27 will the first chapter of Layman and Fabok's final story arc on
Detective Comics
, a slick little tale that goes by the name of "Gothtopia." When the "Gothtopia" arc ends in the spring of 2014, a new creative team consisting of Francis Manipul and Brian Bucellato will take over
Detective Comics
.