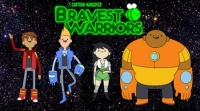 Catalyst Game Labs has acquired a license from Frederator Studios to publish collectable card games based upon Cartoon Hangover's
Bravest Warriors
and
Bee and PuppyCat
, planned for launch in 2014.
The CCGs will be based on the LevelUp system designed by Greg Gorden (creator of games for the original
Star Wars, Torg
and
Earthdawn
RPGs). Gameplay is cooperative, with a mix of fractured storytelling.
In
Pendleton Ward's Bravest Warriors
, players will take the rolls of characters, and face threats grouped as "episodes." When a challenge card is defeated, it is flipped to reveal a reward, trap, or sometimes a more challenging villain.
Specific information on the
Bee and Puppycat
CCG was not provided.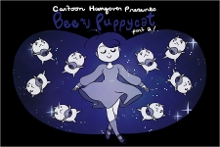 Frederator Studios and Cartoon Hangover make cartoons for television, movies and the Internet. The company has produced 16 series and over 200 short films including
The Fairly OddParents
,
Fanboy & Chum Chum
, and
Adventure Time
for channels like Nickelodeon, Nick Jr, Cartoon Network, and Channel Frederator.
Pendleton Ward's Bravest Warriors
(created by Pendleton Ward--who created
Adventure Time
), set in the year 3085, follows four teenaged heroes-for-hire as they warp through the universe to save adorable aliens and their worlds using the power of their emotions. The show can be seen on the Cartoon Hangover YouTube channel. BOOM! Studios began producing a comic book adaptation of the show in October 2012.
Bee and PuppyCat
(created by
Adventure Time
character designer and storyboard artist Natasha Allegri) follows the adventures of a reluctant heroine and the puppycat as they travel between reality and the void of Fishbowl Space. Though only two Web episodes exist, videos have collectively gained nearly 4 million views since first being posted in July 2013. There is currently a Kickstarter in progress to gain funding for additional episodes.