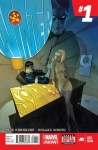 Captain America's old pal, James "Bucky" Barnes, is back and set to star in his own limited series with the All New Marvel NOW! title
Winter Soldier: The Bitter March
, set to launch in February, just ahead of the April 4th movie release (see "
First 'Captain America: The Winter Soldier' Trailer
").
Winter Soldier: The Bitter March
is written by Rick Remender (
Uncanny X-Force, Venom, Uncanny Avengers, Captain America
) with art by Roland Boschi (
Ghost Rider, Punisher Max, Wolverine Max
) and covers by Andrew Robinson (S
tarman, Hawkman, Star Wars, The Fifth Beatle
). The story is set during the Cold War, with Bucky dispatched by his Soviet masters to retrieve two Nazi scientists.
In an interview on Marvel.com
,
Remender (who is the current writer on
Captain America
) said of the series, "
Winter Soldier
and
Captain America
are brother and sister titles and it's important to me that the two things really intertwine in a way that pays out later."
This will be a complement (covering some of Bucky's "lost years") for the upcoming
Captain America
movie tie-in titles (see "
Brubaker Lauds 'Winter Soldier' Publishing
").