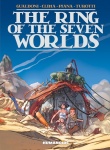 Following the recent releases of previously sold-out collections such as Alexandro Jodorowsky and Moebius'
Madwoman of the Sacred Heart
and
The Technopriests
or of newer titles such as
Bluesy Lucy
and
Bad Break
, Humanoids Inc completes its 2014 lineup with four new graphic novels coming this Holiday 2014 season.
First up is
The Ring of the Seven Worlds
. Written by Gabriele Clima and Giovanni Gualdoni with art by Matteo Piana and Davide Turotti,
The Ring
is the English-language edition collecting stories originally published in France between 2003 and 2012. Science fiction meets manga in this innovative story of multidimensional travel, interstellar warfare, and teenage adventure. Available on November 20th,
The Ring of the Seven Worlds
is a 236-page color hardcover at $29.99.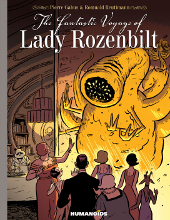 The Fantastic Voyage of Lady Rozenbilt
will appeal to audiences familiar with the universe Pierre Gabus and Romuald Reutimann created with their
District 14
as
The Fantastic Voyage
occurs in the same fictional realm. The 124-page oversized color hardcover is at $29.95, and will be available on November 27th.
Also by Gabus and Reutimann is the second installment of
District 14
, simply titled
Season 2
. The 360-page sequel is black and white and retails for $39.95. There is not, however, a specific release date.
Last, Humanoids will publish the second to the last volume in its deluxe format edition re-release of
The Incal.
Arriving on November 20,
The Fifth Essence: Part One The Dreaming Galaxy
is a 48 page, full-color hardcover and will retail for $79.95. Like the previous volumes,
The Fifth Essence
is a limited and numbered edition of 999 copies.
--
Nathan Wilson