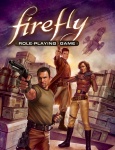 Margaret Weis Productions has revealed a February 18th release date for the print version of the
Firefly Role-Playing Game
corebook, as well as plans for future releases for the line (and art from the RPG corebook, see "
'Preview: Firefly RPG'
").
The game was announced back in February (see "
New 'Firefly' RPG
") and MWP released the first product,
Gaming in the 'Verse
, as a limited edition website exclusive for Gen Con (see "
First 'Firefly RPG' Release Will Be Website Exclusive
"), as well as several PDF adventures.
The
Firefly Role-Playing Game
corebook will be a 360-page, color hardcover, with an MSRP of $49.99. The rulebook will include rules and guidelines as well as ship plans, system charts, an episode guide and more.
The game is designed to be accessible to new gamers. Writer Monica Valentinelli explained her marching orders from Weis: "'Make the game simple,' (Weis) said. 'I want this to be a game for fans of
Firefly
who love the television show, but may have never role-played before. Let's give them a chance to adventure out in the black!'"
The second book planned is the May 2014 release of
Firefly RPG: Things Don't Go Smooth.
The 180-page softcover supplement details shady organizations, crime bosses, Alliance Operatives and rival crews. There will be story hooks, supporting characters, locations and background material to flesh out the game. MSRP is $29.99.
Gen Con 2014 will bring the release of
Echoes of War: Volume One,
the planned print release of the five PDF stand-alone adventures (see "
'Firefly' Plans
"). The 300-page book will also include a basic set of rules and all nine cast member bios (so the corebook is not needed). MSRP is set at $29.99.
Firefly RPG: Smugglers Guide to the Rim
will be released in October. This 200-page softcover guidebook will explore more unsavory characters, secret trade routes, places to hide loot and new games rules to build reputation in the 'verse. MSRP is set at $29.99.
MWP also shared plans for projected 2015 releases, including Firefly
RPG: Ghosts in the Black (A Post-Unification War Campaign for Firefly)--
a five Episode adventure campaign supplement about a mysterious Alliance cruiser, at $29.99 to $34.99 in January 2015; and
Echoes of War Volume 2
and
Echoes of War Volume 3,
two $24.99, 240-page collections of four adventures each, scheduled for March 2015.