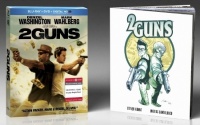 Target is offering an exclusive promotion for the Blu-ray of
2 Guns:
, a special graphic novel sample of the Steven Grant comic from BOOM! Studios. The first two issues of the comic are offered in a 48-page book free with purchases of the
2 Guns
Blu-ray. The beginning of the story, it's hoped, will lead purchasers of the Blu-ray to seek out the full length graphic novel.
The Denzel Washington and Mark Wahlberg film won the box office the week it premiered (see "
'2 Guns' Wins Box Office Shootout
"), and ended up with a respectable $130 million worldwide box office gross.
The DVD/Blu-ray was released this week (see "
DVD Round-Up: '2 Guns,' 'The World's End,' & A Drew Struzan Movie
").
And
3 Guns
, the sequel comic series by Steven Grant, is already out (see "
'2 Guns' Sequel is Already on the Shelves
").