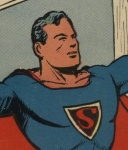 In the latest victory for media conglomerates in the copyright cases over some of the most popular comic characters, the 9th Circuit Court of Appeals has ruled in a 2-1 decision in favor of Warner Bros. in what may be the last vestiges of the dispute between DC's parent company and the heirs of Superman creators Jerry Siegel and Joe Shuster, according to
Deadline
. The ruling reaffirms an earlier ruling at the District Court level (see "
DC owns Superboy
").
An appeal for a reconsideration by the Appeals Court or to the Supreme Court is possible, as is additional litigation along other lines of reasoning.
Last month, the 2nd Circuit Court of Appeals reaffirmed its ruling against the heirs of Jack Kirby in a request for reconsideration of an August decision ruling that the lower court had decided correctly in calling Kirby's work for Marvel work for hire (see "
Appeals Court Rules Against Kirby Heirs
"), according to
Deadline
.