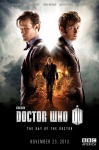 The Day of the Doctor
, the 50th anniversary special
Doctor Who
episode which aired first on Saturday afternoon and again Saturday night, drew eight times as many viewers as the top show on BBC America the previous week, according to
Variety
.
The ratings were the best ever for a show on BBC America, faint praise, but a positive result from the massive build-up both for the content (four Doctors, including the legendary Tom Baker), and for the airing as event (see "
'Doctor Who' BBC America Takeover
," and "
Global Simulcast for 'Doctor Who'
").
The global simulcast was anchored around the Saturday evening broadcast in the UK (where the show drew 10.2 million viewers), which put the first airing on Saturday afternoon in the U.S., a bad spot unless you're college football. Despite the time slot, the show drew 2.4 million viewers, and with a prime time repeat, 3.6 million viewers for the live airings. Numbers will grow with DVR, VOD, and streaming viewership.