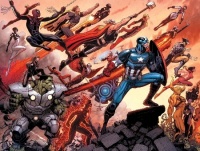 Marvel has released images for two of the
Avengers World
#1 covers, scheduled for January shipping: the standard cover by John Cassaday, and the wraparound variant by Art Adams.
Click either image for larger view.
The new series, announced at New York Comic Con (see "
Marvel Announces a Bunch of New 'Avengers' Titles
"), flows out of the events of Infinity. It will give greater prominence to newer Avengers such as Hyperion, Smasher, Cannonball, Shang-Chi, Starbrand, and Sunspot, while still drawing from the available 18+ members of the team.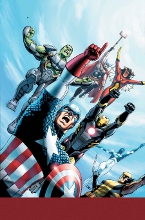 In the post-Infinity storyline, Earth has been marked an "Avengers World," because it is under the protection of the team.