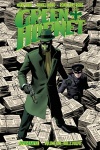 Mark Waid's The Green Hornet Vol. 1: Bully Pulpit TP
Publisher: Dynamite Entertainment
Release Date: November 19, 2013
Price: $19.99
Writer: Mark Waid
Artist: Daniel Indro
Format: 160 pgs., Full Color, Trade Paperback
ISBN: 978-1-6069-0439-8
Age Rating: Teen+
ICv2 Rating: 5 out of 5 stars
Up until now Britt Reid has managed to balance his dual, and dueling, careers, of crusading publisher of the newspaper the
Daily Sentinel
and The Green Hornet, who goes undercover as a masked criminal to take on the world of organized crime. But when his arrogance drives Reid to make a terrible decision, it not only alienates his partner Kato but threatens to end both of his double lives.
Although there are plenty of people want to believe otherwise, The Green Hornet was never a superhero, or even a traditional masked vigilante for that matter, but someone who really gets this is writer Mark Waid. And here he demonstrates that by creating a story which focuses on everything that makes the character such a unique crime fighter.
For long term fans there's plenty to like here, such as the way it addresses things that have always bothered them, such as the fact The Hornet doesn't have an "origin" in the traditional sense, or that Kato lacked a crime fighting alias. More problematic though, has been the relationship between Reid and Kato, which was of master and servant rather than partners, but Waid puts a modern take on it that shows just how important Kato was to both Reid and The Hornet. But for those completely new to the character you couldn't ask for a better introduction than this sprawling, gritty crime drama set in 1930's Chicago.
--
Steve Bennett: Writer and retail services consultant