VIZ Media has announced several new manga titles for 2014, along with updated info on some previously announced titles.
Terra Formars
by Yu Sasuga, with illustration by Kenichi Tachibana, is a buzz title in Japan this year (though the series has been running in
Weekly Young
Jump since 2011), appearing on several Top Titles lists. The sci-fi horror story follows the crew of the second manned mission to Mars, which humanity has been attempting to terraform (with the help of giant cockroaches).
Terra Formars Vol. 1
releases on July 15, and
Vol. 2
will follow on September 16. Both have an MSRP of $12.99.
VIZ also plans to release new omnibus editions of Naoki Urasawa's classic psychological/ medical crime manga
Monster
, the award winning and critically acclaimed series which was released here by Viz in eighteen volumes from 2004-2008. The series has been adapted into a Madhouse anime series (see "
Viz Media Presenting 'Hunter x Hunter' & 'Monster' Anime Series
") and Guillermo del Toro is currently developing a live-action series for HBO (see "
Del Toro on 'Monster'
").
Monster, Vol. 1: The Perfect Edition
will be released on July 15. The 426-page volume carries an MSRP of $19.99.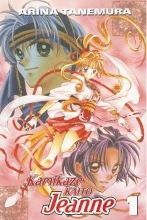 VIZ will begin releasing Arina Tanemura's shojo manga series
Phantom Thief Jeanne
in March. Tanemura (
The Legend of Princess Sakura, The Gentlemen's Alliance
) is a well-known manga-ka, and "
Kamikaze Kaitou Jeanne
" which ran in
Ribon
from 1998 to 2000, was adapted by Toei Animation into a 44-episode anime. The fantasy series follows a high school girl who is the reincarnation of Jeanne D'Arc and transforms into a phantom thief-magical girl to recover scattered art works that contain pieces of God's power to save them from demons.
Phantom Thief Jeanne Vol. 1
will release on March 4, followed by
Vol. 2
on May 6,
Vol. 3
on July 1, and
Vol. 4
on September 2. MSRP on all volumes is $10.99.
Other releases already announced include VIZ's planned U.S. relaunch of the
Ranma ½
property in 2014, with the
Ranma 1/2 (2-in-1 Edition): Vol. 1
releasing March 11 (see "
Restored 'Ranma ½'
").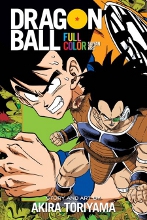 Dragon Ball Full Color, Vol. 1
by Akira Toriyama was announced back in July (see "
Viz Media Adds 'Deadman Wonderland,' 'Gangsta' Mangas
").
Vol.1
will be released on February 4, Vol. 2 on April 1, and
Vol. 3: Saiyan Arc
on June 3. MSRP on all three is $19.99.
From VIZ's Haikasoru sci-fi literary imprint, they will release
All You Need is Kill
, both as an OGN and in novel form as a special movie tie with
Edge of Tomorrow
(see "
The 'All You Need is Kill' Adaptation: Live, Die, Repeat
"). The
Edge of
Tomorrow book will release on April 29 with an MSRP of $7.99 and the OGN will release May 6 with an MSRP of $14.99.