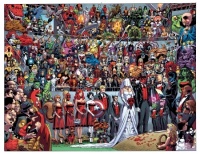 Deadpool will be married in a special oversized issue #27 which releases in April, according to writer Gerry Duggan in an interview with
Nerdist
.
The lead-in to the wedding story will weave its way through the regular series and the Deadpool Infinite comic, a weekly digital series that launches this month. It's not necessary to read the Infinite title to follow the events in the regular series, Duggan promised.
It's unclear how long the marriage will last. The invitations that Marvel has been using as teasers are blood-spattered, and Duggan said in the interview, "As for how long she'll be around, I'm not 100% sure, because when you get close to Deadpool, that's maybe when I start to think about adding you in my deadpool."
A special wraparound cover by series cover artist Scott Koblish, based on the cover showing Peter Parker and Mary Jane from 1986, will include 245 characters and add another collectability feature to the book.