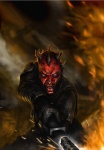 Dark Horse will release a four-issue miniseries as a final chapter to the
Star Wars: The Clone Wars
animated series, Lucasfilm announced via
Newsarama
.
Darth Maul: Son of Dathomir
will debut in May.
Star Wars: The Clone Wars
ended abruptly last year after five seasons, with the final episodes left in limbo, though that was later resolved when Lucasfilm announced the last season would be released in October on Blu-ray and DVD, with what had been in the works for season six included as "bonus content" (see "
First Look at 'Star Wars Rebels'
"). However, there were story arcs that never made it to full production, including the subject of this series, what happened to the infamous Darth Maul.
Series writer Jeremy Barlow (who has also been a writer and editor on past Dark Horse
Star Wars
comics) said, "The story is an important--and action-packed--chapter in Darth Maul's continuing evolution as envisioned by George Lucas. ...Dark Horse and the team at Lucasfilm saw an opportunity to save these teleplays from obsolescence..."
In response to the announcement, a member of the Lucasfilm Story Group, charged with maintaining a single Star Wars canon across the entire universe (see "
One 'Star Wars' Canon
"), clarified that the story arc was not a "series finale." "The Maul comic is very cool, but it *wasn't* the series finale, Lucasfilm Story Group member Pablo Hidalgo tweeted. "It was a 4-part arc that fell beyond what was already in production."
Dark Horse is in the final year of its comic license for
Star Wars
(see "
Marvel, Dark Horse Statements on 'Star Wars'
").