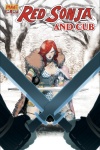 Dynamite Entertainment has announced two new comic book initiatives that are debuting in April. The first is a manga-style one-shot,
Red Sonja & Cub,
that will be written by Jim Zub (
Pathfinder)
and drawn by Jonathan Lau; while the second is a new ongoing
Solar: Man of Atom
comic book series written by Frank Barbiere (
Five Ghosts
) and drawn by Joe Bennett (
Iron Man
).
The oversize
Red Sonja & Cub
comic puts everyone's favorite female barbarian in a samurai-style story of savage combat set in the snow covered Asiatic land of Khitai. Jeffrey "Chamba" Cruz will provide the cover for this manga-style one-shot, which will be solicited in the February issue of Diamond's
Previews
catalog.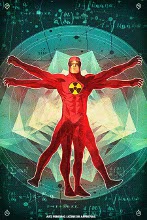 Solar: Man of Atom
represents the third Gold Key hero in Dynamite's lineup, which already includes
Turok: The Dinosaur Hunter
that launches next month, and
Magnus: Robot Fighter
, which is slated to debut in March (see "
Dynamite Reviving Gold Key Heroes in 2014
"). The rebooted
Solar
comic will include a new cast of supporting characters as well as a reimagining of the science fiction hero to make the character more accessible to modern sensibilities.
Dynamite is planning several covers for its launch of
Solar: Man of Atom
#1, including a principal cover by Juan Doe (
Fantastic Four
) and a Subscription-only variant by legendary
Solar
artist Bob Layton. In order to get retailers to sample the new
Solar
title, Dynamite is making all
Solar: Man of Atom
#1 comics with the principal cover and the Subscription-only variant fully returnable.
Dynamite will also offer additional variant covers by Garry Brown (
Five Ghosts
), Stephen Mooney (
Spike, Angel
), and Ken Haeser (
The Living Corpse
), which will be available to retailers who meet ordering requirements.