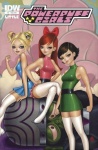 Cartoon Network has told ICv2 that it is pulling the controversial
The
Powerpuff Girls
#6 variant cover by artist Mimi Yoon that was supposed to ship from IDW Publishing in February. The Cartoon Network's action comes after complaints by comic book retailer Dennis Barger Jr. on
Facebook
stirred a controversy. The anime style cover image depicts the Powerpuff Girls as sexy teens decked out in skintight mini-skirted uniforms and white stockings.
Barger posted the image on Facebook along with his reaction: "Are we seriously sexualizing pre-teen girls like perverted writing fan fiction writers on the internet???? is that what this s*** has gotten to? DISGUSTED."
IDW's Vice President of Marketing Dirk Wood chimed in and laid the blame squarely at the feet of the Cartoon Network: "That was actually a Cartoon Network mandated cover, by an artist of their choosing. I think they were thinking of it more along the lines of "female empowerment" than the kind of thing you guys are talking about, but certainly, we're sensitive to the issues here. We love making comics for kids, and always want them to be appropriate. For what it's worth, CN has been a great partner in that regard… I know an 8 year old and 10 year old really well, and always look at these kinds of things through their eyes… Half of the employees have kids here, and we pride ourselves in making comics they'll enjoy and not give them a warped view of the world (except, you know, in a good way). Anyway, I certainly see your points, and we'll be sensitive to these things, as I think we mostly have been."
ICv2 contacted Cartoon Network Enterprises, the licensing and merchandising arm of Cartoon Network, concerning the cover and received the following reply indicating the variant cover, which was intended for comic shop clientele rather than the general public, will not be released: "In conjunction with our licensing partners, Cartoon Network Enterprises from time to time works with the artist community to reimagine and reinterpret our brands using their talents and unique points of view. This particular variant cover for
The Powerpuff Girls #6
from IDW was done in the artist's signature style and was intended to be released as a collectible item for comic book fans. We recognize some fans' reaction to the cover and, as such, will no longer be releasing it at comic book shops."