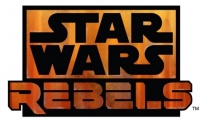 Given the cloak of secrecy surrounding Disney's attempt to reboot the
Star Wars
franchise, it isn't easy to discern what direction the studio plans to go with its acquisition, but information about the new
Star Wars Rebels
animated series that is heading to Disney XD, and the latest insider "leak" about the development of
Star Wars: Episode VII
both suggest that the mixture of swashbuckling action and optimism of the original
Star Wars
film, 1977's
A New Hope
is the template that the animators of
Star Wars Rebel
and the screenwriters of
Episode VII
are attempting to emulate.
Talking with
Entertainment Weekly
, Simon Kinberg who is one of the producers of
Star Wars Rebels
made no bones about the animators' approach to
Star Wars Rebels
and its debt to
A New Hope
. The animators took their visual cues from the concept art created by Ralph McQuarrie for the original film. Those sketches were used for more than just for character design. The
Star Wars Rebels
crew also took McQuarrie sketches for vehicles and environments that were never used in
A New Hope
and incorporated them into their new story that is set during a time when the Empire, consolidating its political power, is ruling with an iron hand and stirring up the seeds of rebellion (see "
First Look at 'Star Wars Rebels'
").
Kinberg told
EW
: "The world we're creating is an Imperial world. You're seeing the impact of the Empire, of stormtroopers around the galaxy, abusing and oppressing people. Thematically and politically, it goes to some dark places. But for the tone of the show we took our cues from the original movies, which had fun and adventure and swashbuckling with emotion and grounded human characters. We took all our cues from the original films. Obviously there are slight tonal differences between
New Hope
,
Empire
and
Jedi
. But I think the closest intended voice of the show is
A New Hope
."
According to an "insider" report in
The Hollywood Reporter
,
Star Wars Episode VII
is heading in a similar direction.
THR
maintains that writer Michael Arndt left the project last fall due to a difference of opinion about which characters to emphasize in the new film, and after he left the focus of
Episode VII
has shifted from the offspring of the principal characters of
A New Hope
"to focus on the classic trio of characters (Luke Skywalker, Han Solo, Princess Leia) so audiences would have one more chance to enjoy them before a fitting send-off." According to the
Reporter,
Episodes VIII
and
IX
will concentrate on the exploits of the next generation of "rebels."